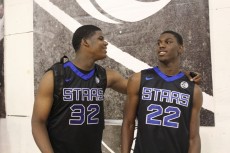 LOS ANGELES - Not many players have won three state titles, let alone only in three years. Not many players have the opportunity to say they are playing for a fourth state title. 2012 big man Tony Parker can say these things and this upcoming high school season he and his Miller Grove team will have a chance to pursue another title. The Duke prospect had an incredible junior year and is continuing his success on the AAU circuit in the Nike EYBL. Since last summer the Georgia big man has clearly toned up, a testament to his work ethic. After three sessions of the EYBL his Georgia Stars have compiled a solid 11-4 record ensuring them a spot in the Nike Peach Jam this upcoming July. BDN was able to do a quick check in with the 6'9 big man.
BDN: I saw you take Kyle Anderson to the side after the game yesterday, what did you guys talk about?
TP: Oh man I've been playing against Kyle since about 6th grade, I know him real well. He played on USA with me so you [private] know we're real close, we have a good friendship.
You seemed to be the peacemaker so to speak.
Just telling him it was a great game and apologizing for the disrespectful stuff ya know. He's a really great kid and a good basketball player.
At this point do you have a preference or comfort to facing up or having your back to the basket?
Well right now back to the basket is easier but I have to have a face up game to compete against double teams. It adds another level to my game.
You seem to like that little fade away from about 5-10 feet.
Yea it's been working for me.
I have to say you look much more toned from last year.
Yea I've been going to strength and conditioning every day, my strength and conditioning coach is really great. You know during school we go at six in the morning and now we're going at 9am because school is over. Every day I get better with him, I'm getting faster and stronger, and just an overall better basketball player.
Does he travel with you guys?
No sir he didn't make it out here.
How do you feel your defense is at this point? Do you see improvements?
Oh yea definitely I see improvements. At this point my defense is ok but I can improve. I can block more shots but I'm doing a good job at altering shots on guards who attack the basket.
What about helping out your teammates on defense? How do you try and do that?
You always have to protect your point guards in order to get the ball back. I'm always calling screens to let them know they're coming.
Kind of like the eyes in the back of their head?
Yes sir. I'm their eyes because they can't see behind them so I have to protect them.
Will you be at any camps this summer?
I'll be at the Amar'e camp and NBA camp; probably the Lebron one and the King City Classic.
Being deep into the recruiting process will you cut your list anytime soon?
Yes sir I'll probably cut it late July or sooner.
Will you be making any visits soon?
Yes I should be going to Memphis on Tuesday when we get back.
Appreciate your time, Tony.
No problem, thanks. [/private]