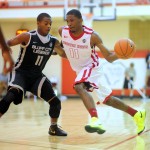 NORTH AUGUSTA, SC - The Nike EYBL Peach Jam is the premiere event of summer when it comes to AAU basketball in that the games count and a champion will be crowned on Sunday.
Duke head coach Mike Krzyzewski is here with his assistant Jeff Capel in tow taking in some of the nations best prospects and Blue Devil Nation is here as well to let you know how the key prospects are playing.
Here is a recap of the morning and afternoon sessions from a Duke angle -
Grayson Allen continues [private]  to be played sparingly for Each One Teach One (E1T1) but a trained eye can see he's not getting the looks or ball when needed to be successful at a high level.
Allen went 3 for 3 from the field today and 2 of 2 from the free throw stripe where Coach Krzyzewski took in part of his game. Allen loves to drive the open lane for a tomahawk dunk and he's done so three times while I have watched. But the bottom line is he is not on a team where he is a good fit and established players are freezing him out.
I, for one, think Allen is going to be just fine when he arrives in Durham and I can tell you that Coach K loves him and for good reason which I will elaborate more on this coming week.
Mac Irvin was playing at the same time as Allen and this meant Capel was there for the whole game and Krzyzewski for the majority of it. In fact, he split time watching two games, strategically standing in the end zone for both courts and a new prospect name could have hit the radar ... more to come on that.
Jahlil Okafor helped lead the Mac Irwin Fire to an 88-79 win over the Texas Titans (Matt Jones former AAU team). The big Okafor tallied 26 points on 10 of 13 shooting from the field and he is one of the few players who has played better or stronger as the tournament grind wears on..
A worthy side notes is the fact that the Duke center prospect dished out 5 assists to go with his 5 rebounds.
Krzyzewski remained in the end zone for the 10:30 games as well and he did so to watch the most coveted PG in the country in Tyus Jones. Howard Pulley came into the game without a win but Jones scored 21 points and dished out 9 assists to lead his team to a 90-78 win over Travelers Basketball.
Today, everybody and their brother is all over the fact he will attend the same school as Okafor and I think this happens. I feel great about the Blue Devils position here and the fact that Krzyzewski has such a strong relationship with Jones.
The Malik Newman show continued where the sleek young prospect scored 26 points shooting the ball much better than he did last evening. But once again, his Jackson Tigers team, which is really weak, lost.
Texas Elite drew no Duke views today but Elijah Thomas went 3 of 7 ending the game with 8 points and 6 rebounds in 19 minutes of play. Thomas, who fouled out last evening was once again saddled with foul trouble where he had 4 total and his team was absolutely crushed by Team Takeover by an 82-44 score.
Not to be out done by Jahlil Okafors' fine performance, Justise Winslow had a monster game where he scored 21 points on 9 of 12 shooting. Winslow also pulled down 7 rebounds and had 6 assists for a wonderful days work.
Winslow is a well-rounded player who still lists ten schools and he said today UCLA and others were trying to enter the picture. I will have an interview up with Winslow shortly.
Houston Hoops dropped Boo Williams 78-62 where Thon Maker had 15 points and 7 rebounds for the loser. I spoke to Maker as well, so we have some interviews when I can find time to transcribe them.
Finally, Coach Krzyzewski took a look at Luke Kennard who dropped 20 point in his teams win. The youngster plays a hard nose style of basketball with that little edge of intensity. Quite simply, he likes to compete.
I will go into my thought on players a bit later, but for now, I have to prep for the evening session and then later find some rest to close out Saturdays games before taking the road trip back to Durham.
Discuss this and more on the BDN Premium message board with fellow members.
Sidebar - Coach K stood beside and chatted up Kentuckys' John Calipari.  I sat with Johnny Dawkins for one game catching up on old times and had a chance to talk to Chris Collins as well.  Also, welcomed Mike Brey to the ACC and had a nice talk with him as well.  For the record, Duke will play the Irish once on the road this season.  Stanley  Johnson had a good game today where he dropped 34 and 14. [/private]