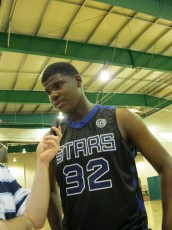 There is but a single game left in pool play at the Nike EYBL Peach Jam before the quarterfinals which begin at 6:00 tomorrow.  That means that some prospects have one last shot at impressing coaches during this open recruiting period.  Others will advance and a few teams are already clearly at the top including undefeated Oakland Soldiers, YOMCA and BABC.   Other teams in the mix are Team Takeover, Georgia Stars, Mac Irwin, Playazz and CP3. The higest point total for a single game is 94 from Howard Pulley, while CP3 scored 93 to come in second after four games.
Most want to know about individual players so here is a run down - Duke bound Rasheed Sulaimon is the events leading scorer to date with an average of 23.3 ppg.  Ricardo Gathers is at 20.0, Brandon Ashley 19.5, Jabari Parker 19.3, D"Vante Smith-Rivera, Kyle Anderson and Isaih Zierdan are all averaging 19.o as well.  Matt Jones is scoring at an 18.8 ppg clip and Anthony Barber, Archie Goodwin, Jordan Price, Terry Rozier and Jerami Grant round out the top scorers.
Brice Johnson has made 29 of 33 field goals for and amazing .879 shooting percentage.  Others shooting a high percentage from the field are Jarnell Stokes, Julian Harrell, DaJuan Coleman, Anthony Bennett and Savon Goodman. The aforementioned and Duke bound Sulaimon has made the most free throws as well.
Board giants are Ricardo Gathers who is averaging 13.0 rebounds per game and he is followed by two Duke prospects in Alex Poythress and Tony Parker at 9.8 apiece.  Another Duke prospect Jabari Parker comes in 4th at 9,3 rpg.
Houston Hoop's PG L.J. Rose is the assist leader with 8.8 per contest whiole Rodney Purvis who has worked on becoming more of a PG has 7.3 a game as does Kyle Anderson.  UNC bound Marcus Paige is averaging 3.0 steals per game.
Nerlen's Noel is averaging 6.8 blocks per game.  Be sure and see our interview with him on BDN Premium.  Noel has an amazing 12 blocks in his last game on the floor.
BABC and YOMCA are undefeated mainly from their solid defensive play where they are letting up 54.5 and 55.8 ppg.  Oakland, is undefeated in that they have scored 73.8 ppg.  Team Texas is holding opponents to 54.5 ppg but are 2-2.  Boo Williams is leading all teams in scoring yet they have the worst defensive average and that has held them back from tournament success.
Team Takeover lost their first game of the AAU season when they dropped a thriller to the Georgia Stars.  The Stars are holding their opponents to .368 from the field are are setting at 3-1 going into the final game of pool play tomorrow morning.
Another great matchup was Julius Randle vs Ricardo Gathers.  Randle has 17 points and 12 boards to Gathers 14 point and 8 rebound effort.  Granted, gathers plays on one of the events worst teams at 0-4 so he had little help.  Still, the two players locked up like bulls in an intense battle.
My current All Tournament Team would be Rasheed Sulaimon, Ricardo Gathers, Jabari Parker, Kyle Anderson and Nerlens Noel.  My second team would consist of Brandon Ashley, Alex Poythress, Tony Parker, Matt Jones, Archie Goodwin and the fifth is a toss up between three players.  Of course, those are from the games I watched and those picks will certainly change as the event progresses.
A lot of coaches and media want a mercy rule of 20 points in the last two minutes to be implemented.  Far too often teams would foul in the last minutes down 20 or more which makes little sense.  Put the teams losing that bad out of their misery and move on.
For a more concise report of which coaches watched whom and who Duke payed close attention to, join Blue Devil Nation Premium and gain access to inside information, interviews and more detailed observations and tidbits.  Once a member, you can discuss the lates with other die-hard fans on our private message board where our staff streams information and result shortly after they happen.  Try BDN Premium out,  You'll be glad you did, that, we promise.