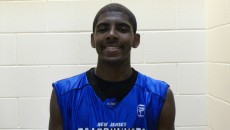 One of the bigger stars in Orlando during the Showcase and AAU Nationals was Duke prospect Kyrie Irving.  People are still talking about his play on the New Jersey Celtics and Roadrunners teams where he dropped thirty points almost every time out.  In leading his team with upset wins over the two best AAU teams all summer long, Irving ended the AAU season in style.  BDN caught up with Kyrie for a one on one interview where he was obviously happy to see Coach K and the Duke staff at all of his games.  Kyrie talks of friendships with other prospects, Coach K, the recruiting process and Jason Williams and his Jersey roots in yet another in depth interview from BDN Premium -
This is Mark Watson of Sports Nation Network standing here with Kyrie Irving who just had yet another 30 point game in this tournament.  Your scoring average has to be around 31 ppg, but you've also been a giant killer in that your New Jersey Celtics team beat All Ohio Red and Team Final in back to back games.  That's quite an accomplishment!  They of course, have been the two best teams on the AAU circuit all season long.  Talk about your personal and team success in Orlando.
(Kyrie smiled as I was asking the question and his face showed pride from his teams play) This tournament has been great.  We had two impressive wins over All Ohio Team Red and Team Final.  Those were great victories especially winning them with my teammates from high school.  Our chemistry on that team is far beyond any others and playing in the AAU circuit with them on the Celtics is fun and playing with the Roadrunners makes it even more enjoyable.  In these tournaments I just try to go out, get my team involved and help my team to victory. [private]
I guess on the outside looking in a lot of people would see all these points you score and would think maybe Kyrie Irving Irving just throws the ball up a lot, but that's not the case, you're a team players that plays within the chemistry of the system.
Uh hum (acknowledged my statement)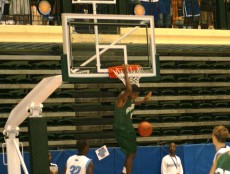 One of the things that I have noticed and find admirable is that when your teammates make a mistake you overlook that take it in stride getting back on defense and or just keep going.
You have to keep going and look to the next play.  That's me working on my leadership skills for next season.  People tend to get a little frustrated, especially with all of these college coaches watching and they'll make mistakes and get down on themselves. So, I just try to take the leadership role and encourage them.
Everybody is coming out to see you play, several of the venues have been packed during your games.  Be it fans, coaches or guys going to other schools they all seem to be turning out.  Let's talk about that.  I'm looking down in the end zone right now and there is the entire Indiana staff watching and hanging around after your game.   What is it like to have all the coaches out in force?
It's great, I enjoy seeing them.  Seeing all these great colleges is a blessing with them here watching and I enjoy them more playing with my friends and teammates on the AAU circuit.
Some have said in the past that Indiana was the leader.  There was talk on message boards that IU was named a leader.  Can I just clarify that?  Is there a leader and is it Indiana or were they just in there early on?
They were in there early.  To name Indiana my favorite was kind of premature.  All the schools are still balanced  and I am still going through the process at full force right now.  I don't have a favorite right now so I am just taking it day by day.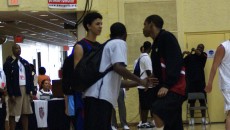 You have had Mike Krzyzewski (Coach K) the Olympic coach  following your every move this weekend catching your every move (KI smiling in acknowledgement).   What was it like to play in front of a guy like him?
Aw, it was great I enjoyed it!  I put on a show and it was just great to have him here.  He's coached so many great guys like LeBron and Kobe and seeing him here ... he's like a celebrity there watching me so it was great.  Just to know that he took time out and came in from Vegas to see me ... it's an honor.  I mean, he didn't have to come in here with everything he had going on, but he did.
Is it a plus on his side that he has been able to coach and interact with such talented players?
Yeah (nodding).
Do you find that an attractive situation?
Yeah.  He has a lot of connections ... one of the great point guards, I think if he didn't get in that motor cycle accident he would have been a ten time all star to this day in Jason Williams.  That really attracts me because he is from Jersey and that just really attracts me.
Yeah, he talked with all the teams and was really straight forward with some personal issues in his talks to all the teams.  So, you can relate to that being a Jersey guy ...
Yeah.
... did he have good things to say about Duke or did he even go there?
No, he didn't go there.
Kyrie, when will you get down to business in the recruiting process?
Nothing is set in stone right now.  I am just going through the camps right now.  I have the Elite 24 and the Nike Global games and after that just a break.
Well, you deserve that break.  It's been a pleasure to have followed you balling on the AAU circuit this season.  In the past, I hadn't really been able to see the Roadrunners a lot but this year I have.
Thanks.
Let me ask you this, have you set up any unofficial visits with other schools or are you working on that?
No not really, I am just playing these games and resting up.  We play so many games a lot.
You have mentioned your Dad in past conversations and obviously he'll play a big role in your decision.  Have you talked to him about some of the schools?  Is he here this weekend?
Now, he's not here.  Usually he doesn't travel to these kinds of tournaments, he likes me to figure it out so he gives me some space to let me figure out the process.  I will call him every night and let him know how I played, but most of the time it is about my weaknesses and what I didn't do or can do better in a game.  He's is not just my biggest fan but a critic as well and yeah, I call him every night.
So, you get to call him and say hey Dad, I went off in front of Coach K today and all of the other coaches?
(laughed and smiled) Yeah, yeah I do.  He enjoys it with me so ..
Is that where you learned most of your basketball skills growing up, Kyrie?
Yes.  My father went to BU (Boston) and they retired his number there and went overseas to Australia and played there.  Actually, that's where I was born.  So basketball runs in my family, my mom plays basketball ...
Would you like to play for Team USA one day?  Have you ever thought about that or is it something you would like to do.
As of right now, a decision that I have made is that I am not going to play with the USA team.  I am going to play with Australia.
That'll be a lot of fun.
Yeah.
Are other teams trying to squeeze in now or make a run at you?
(paused to think) Uh, I'm not sure, they probably call my father but I won;t know until I call him.
So, what will you say tonight?  Just another thirty point game Dad?
I'm going to tell him my shot wasn't really falling in the first half because they were in a zone.  But once they went man I started getting my points.  Other than that we don't really speak about the recruiting unless we are face to face.
You have a tough game tomorrow with Boo Williams - Dawkins going to Duke, Marshall to UNC, McKie to Wake Forest.  What are your thoughts going into that game?
I love it.  I want to play the best.  We played them before the (NJ Celtics) and beat them in a great game.  Me and Michael Gilchrist had a great game against them.  I didn't even know we were playing them, but now that I do, I am looking forward to it.
Now, with Michael Gilchrist you guys are tight in that you hang in the circuit and play together in high school, right?
Yeah, we keep in touch.  We are relatively close in just a friend like relationship.
I have seen you talking to a lot of guys around here.  Is that just from growing up with them in the circuit?  I saw you with Austin Rivers and Andre Dawkins the other day.  Is that a common thing, do you just go around talking to the guys?
When I started going to the top camps that is when I started getting to know them.  Going to those camps again, this is the first season I have gone to the top camps - I met the top players.
Kyrie, you have had a fantastic week of play.  Thanks for your time and good luck.
Thanks a lot. [/private]