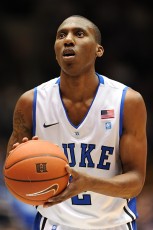 GREENSBORO, N.C. (AP) — Duke guard Nolan Smith is the only unanimous selection to the all-Atlantic Coast Conference basketball team.
The all-ACC teams were announced Monday following a vote of 75 members of the Atlantic Coast Sports Media Association.
Smith was joined by Duke teammate Kyle Singler, Maryland's Jordan Williams, Virginia Tech's Malcolm Delaney and Boston College's Reggie Jackson. Smith leads the ACC with an average of 21.6 points and is second in assists.
For the first time in league history, the outright ACC regular-season champion failed to place any players on the first team. North Carolina had three players make the second team and another on the third team.
All-ACC
First Team
Nolan Smith, Duke (225)+
Jordan Williams, Maryland (210)
Malcolm Delaney, Virginia Tech (202)
Kyle Singler, Duke (199)
Reggie Jackson, Boston College (190)
Second Team
Tyler Zeller, North Carolina (161)
John Henson, North Carolina (148)
Harrison Barnes, North Carolina (145)
Iman Shumpert, Georgia Tech (132)
Jeff Allen, Virginia Tech (131)
Third Team
Chris Singleton, Florida State (126)
Demontez Stitt, Clemson (81)
Joe Trapani, Boston College (63)
Malcolm Grant, Miami (62)
Kendall Marshall, North Carolina (45)
All-Freshman Team
Harrison Barnes, North Carolina (75)+
Travis McKie, Wake Forest (74)
Kendall Marshall, North Carolina (71)
Terrell Stoglin, Maryland (62)
C.J. Leslie, N.C. State (46)
All-Defensive Team
John Henson, North Carolina (75)+
Chris Singleton, Florida State (64)
Iman Shumpert, Georgia Tech (60)
Nolan Smith, Duke (26)
Jerai Grant, Clemson (20)