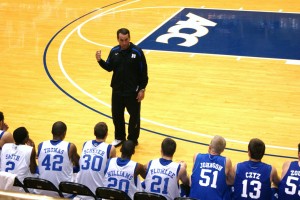 Nolan Smith sat down with the media today and talked about the upcoming NCAA Tournament -
Is that dunk on youtube.com yet?
I'm sure it is, everything gets on you tube.
How well do you know Kevin Broadus, the coach of Binghamton?
I know him very well, he recruited me when he was at Georgetown and he's a family friend.  I have a good relationship with him.  My stepfather, Curtis Malone, knows him through recruiting.  They've known each other for a long time.  It's going to be fun playing against him.  Hopefully, he'll let me get off.
Do you know anything about the Binghamton players?
I know one of them, Emanuel Mayben and Rivera, I've played with him in AAU.
How does the team feel going into the tournament?  How do you feel?
Right now, I feel great, the team feels great and we are in the best shape we've been in a long time.  Coming off an ACC Championship ... we're very excited being champions going into the tournament.  We feel fresh, we're ready to play.  Last year guys were getting worn down towards the end of the year, playing so hard throughout the season.  We did the same thing this year, but we did things differently as far as practice schedules, keeping guys fresh.
On sitting out during his injury and coming back -
After the concussion, I had to sit out  and it helped me.  I was able to sit back and watch the team practice and in three games.  I knew coming back where I fit in and what I could do to get my minutes back to where they were earlier.  Right now, I'm in a great place and hope to make a charge at the NCAA Tournament Championship.
On whether he knew he'd play thirty minutes in the ACC tournament on Saturday -
No, I didn't.  I had a good practice the day before we left to go to Atlanta.  The first game I played 18 minutes, but they were good minutes.  I wasn't that confident I was going to play that many minutes.  But Coach called my name and I was ready.   I got a little winded, but coach gave me the rest I needed and put me back in.  I felt great from there on.
Kyle seemed to get tired at the end of last season..
Oh yeah, definitely.  Kyle at the end of last year, he looked tired.  He'd be laying in the training room for hours after practice, but now he is back joking around and having fun.  He feels great, he's playing great and everybody is rejuvenated now.  Our practices are great, we are going hard for an hour or an hour and thirty minutes and we get what we have to done.
Do you feel that the team learned from the Belmont game last year?
Um, yeah.  I'd say so.  We know that we can't overlook anybody.  They played us down to the wire, so going into this game, we have to play great and play one game at a time as if it was our last one.
Scheyer has a new role as the PG.  What do you feel like your role will be going into the tournament?
My role going into this tournament is going to be to play defense and continue to drive the ball strong and make plays.  Be aggressive like I was this weekend and be aggressive when I play off the ball.  I still have some work to do at the point, but off the ball, I'm a lot more comfortable when I get the ball.  If I have the ball and Jon (Scheyer) is on the wing, I can try to make something at the point.  There are going to be different situations where I am going to have the ball and Jon is on the wing.  I'm getting a good feel of what needs to be done at the point guard spot, seeing how well Jon is running it.  It's been a learning experience watching him play point.
On the team protecting the ball better with Scheyer at the point -
Not turning the ball over helps our offense.  We feel like we can get a good shot down the court every time.  And if we can do that, it'll help our defense.  A lot of teams  don't want to play against our set defense, so if we don't turn the ball over we feel like we are going to score when we get a good look.