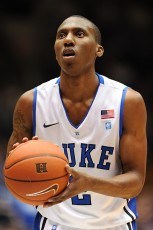 DURHAM - A portion of the men's basketball team met with the media today in Cameron Indoor Stadium and BDN was there in order to bring you the latest.  Here are five questions with Duke Senior Nolan Smith.
What are your general thoughts going into the Boston College game?
It's a must win for us.  It's going to be a very tough game and it's a conference game, so we've got to come out and compete, bring a lot of energy, it's just a must win.  We've got to get the win.
Nobody has ever led the ACC in both scoring and assists.  How do you manage to do all the things you've got to do? [Ken Tysiac, News and Observer]
Just stay in great shape.  I'm always doing something extra after practice like the tread mill and working with Coach Will [William Stephenson, Duke Strength Coach] One Kyrie went down, Coach K asked me to step up and do more, that he'd ask a lot more of me.  I'm just doing whatever it takes to win basketball games, be it an assist or score.  I just want to continue to play at a height level.
There was some concerne when you banged your knee at N.C. State.  Has that healed and are you feeling good?
I feel great.  We're getting a good fast paced practice in, but we also have time to get some treatments and rest, so I feel great right now.  I feel like if coach plays me those minutes  I can still do it and feel great.  I use ice bags every day after practice and they are doing everything they can to keep Kyle and me fresh so we can get those minutes.
There are a dozen games left in the season, half of those in Cameron.  At this point in the season is it in the back of your mind that you are playing your final few games in Durham?
Each game does, especially at home.  Each game I know is closer to being my last game here.  I didn't start thinking about it until recently when I sat down with my Mom to talk and reflect back and she just told me to finish strong.  She's been my biggest coach and support so each game will be very important for myself and my team.  I want to go out in Cameron as strong as I can.
And does this apply to your senior teammate Kyle Singler as well?
Definitely, yes.  We are very close friends and I've talked to him about because the end is near.  So we want to go out winning basketball games.
[All questions asked by BDN unless noted]