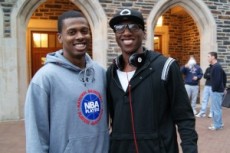 DURHAM, N.C.- One of the top players in the N.C. Pro Am is Duke senior Nolan Smith who has used the event to show off his skills which are improving daily.  Smith has been working hard in the off season,  attending the Chris Paul and LeBron James Camp and he is playing for the U.S. Select Team.  Smith has dazzled the crowds at N.C. Central with his play has brought the crowds to it's feet on several occasions.  It's no secret that Duke will likely be the pre season number one team in the nation and a big part of that is Smith's senior leadership.  I caught up to Nolan for a one on one chat and hope Blue Devil Nation fans will enjoy the Q & A session with the player everybody wants to hear from.
You just dropped 43 points in a most impressive fashion here at the N.C. Pro Am.  I understand that you out a 1000 shots up in a workout earlier today as well.
Andre Dawkins and myself got about 1000 shots in today and I just carried that over to tonight.  It's been non stop work and a long hard summer and when I come out here I've got to show what I've worked on.  I just wanted to come out here, play hard and make plays.
You just got back from Vegas where you were you joined teammate Kyle Singler.  Can you talk about that experience?
Playing with the U.S. Select game was a great experience.  I got a chance to see where my game is as I get ready for the next level.  It will pay off this coming season where I will show how hard I've worked.  Testing myself against those guys [U.S. Team] was amazing.  The guard that were out there were great and I got a good feel where I am at. 
As good as you were at years end with the win over Butler, you seem much improved in my eyes.  Do you feel like you're playing at another level now?
Yes.  Getting a lot of shots up this summer and going through the reps has helped and I've gotten stronger.  I just wanted the Duke fans and people in this area that I didn't come back this season to mess around and not go for another ring.
What do you feel you need to work on most before going to the next level?
Shooting.  At the next level you get a lot of open shots.  People tell me that in the NBA you have to hit those open shots.  So if my shot becomes real consistent and I go to the basket being strong enough to take contact then my game will be ready.
There is a pretty good freshman named Kyrie Irving joining you in this years backcourt.  That's a pretty lethal combination.  Can anybody stop you?
I would like to think nobody can stop us.  I've seen him play out here and the talent he has, he can score, but he is unselfish and will pass the ball.  We've got a great relationship and chemistry is going to show for us.  I can't wait for the season to start.
Will the two of you be like dual point guards at times this season?
Oh yeah, definitely.  Both of us can score and both of us just want to make plays.  When we go out there we're just going to think about winning and everything else will take care of itself.
You were voted class president as a senior in high school, you love to smile and bring smiles, you tweet with the best of them and brought the house down with your antics during last seasons Countdown to Craziness.  Where does that sense of fun come from?
My sense of humor comes from who I am, my family and who my Dad was.  I love this game and I love the fans who love these games so I always feel like I owe them.  They're appreciative of my game and Duke.  I love letting them know about me and who I am and I try to share some of that.
Your play resemble that of an All American.  Do you feel like you should be first or second team going into the season?
My mom told me good things come to those who wait.  If you try to go get it too soon it'll never happen so I have been patient and I am thankful
What can you do for an encore after averaging 39 ppg at the N.C. Pro Am?
That's it for me and I'd like to be here but I have to go to New York to be with the Select Team.
You've tasted a national championship.  How hungry is Nolan Smith?
Very hungry.  Probably hungrier than last year.  Last year we didn't know we could do it and this year you know you can do it.  I had a chance to talk to Lamar Odom and he just said, it doesn't get much better than winning championships.  He said to go out there and relax and things will come your way. 
Be sure to sign up for BDN's Twitter page where we update from events like the N.C. Pro Am and for full site access join BDN Premium.