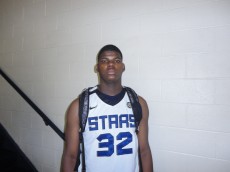 The Georgia Stars made it to the semi finals of the Nike EYBL Peach Jam before losing to YOMCA (Memphis) 78-64.  Duke prospect Tony Parker sat for much of the second half with three fouls and when he returned there was a 14 point swing and a 17 point YOMCA lead.  Parker had 8 points and 8 rebounds in 21 minutes of play and averaged 9.3 rebounds overall in the event.  Parker has long maintained a list of Duke, Memphis and Ohio State but in our closing interview with the budding prospect he added a fourth team which caught me off guard.
In fact, [private] he said that there was another team he "wanted" to come in and that he expected them to but he stopped short of naming the school.
You guys made a good run, how do you feel the week went?
I think we played well overall as a team and Shaq Goodwin had a mismatch and he took full control, killing us on the boards and in the post and we just have to have players who play both sides of the floor and that's the bottom line.
Your team had some injuries, like Alex Poythress and another starter out, so I guess that had a dire effect?
At this point if you have an injury you have to get past it.  This is the Final Four so you have got to play through it.  Every player out here has some sort of kink.  We just didn't play both sides of the floor and injuries?  That didn't have anything to do with it at all.
Memphis doubled down on you a lot, sometime throwing Goodwin at you and sometime Stokes ...
Yeah.  They are both great players and good guys.  They play both sides of the floor, play strong and tough.
Where will the Stars go from here?
I think Orlando.
It sounds like you are waiting for a certain school to come in.  Is that true?
Yes.
So you are expecting certain schools to come in?
Yes.
Have they have actually sent some feelers out?
Yes sir. Yes.
Can you discuss that at all?
No sir.
So, somebody has shot you some feelers saying they would come in and you are definitely interested in them?
Yes sir.
I suppose they will call you some time this week?
Yes sir.
And you will then add teams to your list?
Yes.  I will add a couple of teams.
It sounds like the team coming in could shift the position of the other schools recruiting you.
No sir, not at all,  They are all great schools and all have great programs.
So, Duke, Memphis, Ohio State ..
Duke, Memphis, Ohio State and UCLA
UCLA?  Is that the one you were talking about?
Yes, well, that's one and maybe ...
UCLA is new huh? 
Yes, they are new.
Have other ACC schools showed interest, like  UNC?
They off (stopped short, so not sure what to make of it) ... I haven't heard from North Carolina in a while.
As far as a decision goes, is there an actual time frame?
I don't know.  I'll probably sitdown with my parents soon and figure that out.
Thanks for your time Tony!
Yes sir.  Thank you.
Last word - I wouldn't fret too much about UCLA being added to the list or worry with other comments.  While the recruitment has become frustrating for the fan base, Duke is still in solid shape to land him.  Still, we'd all like to see Tony realize the opportunity at hand with Duke and go ahead and pull the trigger.  Looks like this one will go into his high school season at the current pace.[/private]