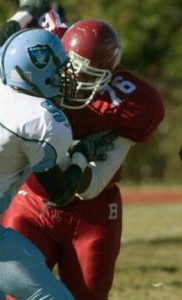 Oliver Lumpkin is a 6'4" 280 pound offensive line prospect from Bowie, Maryland. After his standout junior campaign, Oliver was named 2nd Team All-Conference and has received interest from several top college football programs on the east coast. Penn State and Ohio State are his early favorites, but he's also interested in visiting Duke and North Carolina.
BDN: Can you start off by describing the strengths and weaknesses of your game for someone who hasn't had a chance to see you play?
Well, sir, I play hard and fast. I'm more of a technician, I'm a very good technician. I'm very good at pass blocking. I have adequate feet, I feel that it could be better. I have a lot of power in my stance and I can explode out of it very quickly.
BDN: What are some of the things you are focusing on this offseason as you head into the fall?
Well what I'm working on this offseason is quicker feet, sir. Quicker feet and power, so I can get off the line faster.
BDN: What are your goals for you team and yourself individually for the fall?
My goals for this fall, is after this season, is to make All-American, the US Army All-American Bowl, and possibly the Chesapeake Bowl, and of course the playoffs.
BDN: What are the most important things you are looking for in a college?
The important factors that I'm looking for in a school have to be the education and the football team. I need to have a good relationship with the coach, I need him to accept me as a person, not just a player with a number on the jersey on his back.
BDN: What schools have you recently heard from? Who were the first schools to contact you?
I've been in contact with North Carolina, Duke, Wisconsin, Penn State, Ohio State, Virginia Tech, and West Virginia. Those are the schools that have contacted me and I have contacted them as well. And Alabama.
BDN: Which schools have you had a chance to visit so far? What schools do you definitely plan on visiting later this year?
I was supposed to visit Duke a couple weeks ago but I wasn't able to. North Carolina wants me to come down to one of their spring practices and Penn State wants me to come down as well.
BDN: Have any school stood out to you so far in the process?
The main schools that I'm trying to attend, or I'm thinking about attending are Ohio State and Penn State, somewhere close to home, but yes, I'm considering all those schools.
BDN: It's still very early in the process, but ideally, when would you like to make your college decision?
I'll kind of wait until I see my options because I don't want to make the wrong decision. This decision basically proves about the rest of my life, what I'm going to be education and who I'm going to be educated by, coaching and academic wise.
BDN: Thanks a lot, Oliver and best of luck to you.
Ok, thank you.