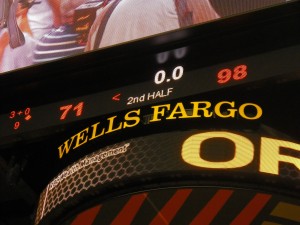 Watching basketball live at the arena provides a different perspective than the television experience. I was fortunate to be able to travel to the Rose Garden in Portland, Oregon and watch Duke defeat Oregon 98-71, from a very good courtside location in Section 111, Row B, Seat 16. In this article, I will share and discuss my observations from the Rose Garden.
The crowd was enthusiastic and cheered on both the Blue Devils and the Ducks; however, when Kyle Singler was introduced the arena exploded with roaring applause from everyone in attendance, which was only upstaged by the standing ovation Singler received when Coach Krzyzewski removed him from the game with five minutes left to play. Obviously, this was Kyle's game. And he did not disappoint.
Singler is smooth as silk. When he curls off a screen, catches a pass, and knocks down a 3-point basket, it appears to be one continuous fluid action. The running, catching, and shooting the ball are not three separate events they are a single entity connected by Singler's smoothness of effort. He is an artist and the basketball court is his canvass.
Kyrie Irving seems to be unstoppable when he decides to attack the rim. He is quick, splits defenders with ease, and takes the ball to the basket in multiple ways. Moreover, his accuracy from the perimeter makes it impossible for defenders to back off and focus on cutting off his opportunity to drive. Irving is a special talent.
One of Coach John Wooden's famous sayings is, "Be quick, but don't hurry." This saying describes Irving's on court performance perfectly.
The improvement in Andre Dawkins' game really stands out when you are watching from courtside. His comfort level is obvious as you can see he is not pressing but allowing the game to come to him. Yesterday he scored 14 points with ease on 4-7 shooting on 3-point baskets. On defense, he was in control of his assignments with solid positioning, fighting through screens, or seamless switches.
Dawkins is always prepared to shoot before the ball is passed to him. He caught a pass, in the second half, on the right wing in front of my seat, and let the ball fly with perfect spin. Watching Dawkins' sweet stroke up close was worth the three hour drive to Portland.
On court communication between the Duke players really stood out. The guys were constantly talking and pointing, directing each other into position on defense or encouraging a shot on offense. The difference between the levels of communication by Duke compared to Oregon cannot be overstated. Television coverage does not pick up this aspect of the game (though I must admit for full disclosure I often times mute the TV as certain broadcasters who will not be named talk too much while saying too little).
Duke fans were driven into frenzy last season and early this season by seemingly endless unnecessary fouls committed by Mason Plumlee. The last three games his silly fouls have vanished. Yesterday Mason played 29 minutes with two fouls; over two games in Kansas City, he played 65 minutes with five fouls. To utilize the oft heard description, I believe the game has slowed down for Mason Plumlee.
Mason Plumlee still has much to improve on, free throw shooting for starters, but he appears to have taken a major step in the right direction. Duke is a much better team with Mason on the court as he is both a legitimate scoring option in the post and Duke's leading rebounder averaging 8.5 per game, which is a full three more per game than Kyle Singler's 5.2 per game.
Yesterday, Mason, along with his older brother Miles, dominated the glass pulling in 12 and 10 rebounds respectively as Duke out rebounded Oregon 48-33. Moreover, the brothers are an intimidating force in the low post as evidenced by Mason blocking four shots with Miles adding a fifth block.
Turning to an area which caused me a slight frown from time to time, Oregon's press bothered Duke, especially at the start of the second half, resulting in an uncharacteristic 19 turnovers by the Blue Devils. While Duke obviously struggled due to some poor passes, and the decision making which led to those passes, credit must be given to the Ducks for playing hard and beating the Blue Devils to the ball with speed.
The speed at which the game is played isn't clearly evident when one is kicked back in a recliner with a beer in his hand taking advantage of perfect angles on a big screen television. Watching courtside you can see how fast the players must make decisions and execute those decisions.
Nolan Smith had a bit of an off game with six turnovers. It is really a testament to how great of a player Smith is when in a game where he scores 18 points, grabs six rebounds and dishes out five assists, us sideline pundits choose to talk about his six turnovers. I'm confident yesterday's turnovers will prove to be a statistical outlier.
Oregon's press allowed Ryan Kelly the opportunity to display his ball handling skills. It is quite impressive to see the 6' 11" Kelly dribbling and passing the ball up the court against a high tempo defense. Kelly only attempted one field goal yesterday, but it was a beautiful 3-point basket from the top of the key. Kelly is going to bring lots of smiles to the faces of Duke fans before his career in Durham is over.
This was the first time I had watched Duke live since the Pfeiffer exhibition game last season in Cameron Indoor Stadium and overall it was a wonderful day. The Rose Garden is a wonderful venue and I hope the Blue Devils schedule another game there at some point in the future. The opportunity to watch this extremely talented team in person made this Duke fan's season.