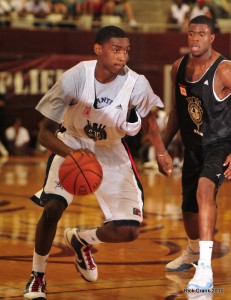 Basketball is a way of life for Duke prospect Quincy Miller who participated in the NC Pro Am at North Carolina Central University this past Thursday evening.  Fresh off a flight from San Antonio, where he helped Team USA go undefeated, Miller made his way onto the court where he was facing a much more talented team full of North Carolina Tar Heels.  Pealing out of his Team USA gear,Miller got his in just one half of play.  But his team was down by 20 when he joined them and that was way too big of a deficit to overcome.   Miller would later nail three, three pointers where he filled in for one half on another team.  BDN talked with Miller and got his thoughts on his USA experience, the recruiting process and his plans for the near future in our latest premium access offering. 
You just got back from San Antonio where you played with Team USA.  What was that experience like for you?
The experience was really good for me.  I played great defense and was probably one of the best defensive players on my team.  It was really nice.
You mentioned that you bonded well with Kyrie Irving earlier.
Kyrieis my boy, we hit it off really well.  I roomed with Kyrie Irving, Austin Rivers and [private] Patrick Young.  It went real well an we developed good relationships and I think they could last for a long time.
You went up against your friend in Deuce Bello tonight.  What was that like?
I mean I know what he can do and he knows what I can do, so we know each other well.
You just scored 15 or 16 points in the second half ...
Yeah, I just got back from San Antonio,so I fot here late.
You're proudly wearing Team USA gear as well.
I am proud.
You had good moves in that game ...
I wished I could have played longer becasue I think I could have helped my team win a game
I noticed you talking and manevering players on the court.  I don't think I've seen you do that like you did tonight.
I was just playing with the USA team and that helped me a lot.  So I know what I need to do to get to the next level and maybe the level after that.  O like helping other players and making those around me better.
Where will your D-One AAU team go from here?
Indianapolis and then Vegas.
Will you be able to play again with AAU events coming up?
I will play a couple of more games here.
What's your school list looking like these days?
Wake Forest, Kentucky, Syracuse, Duke, Memphis, Oklahoma, Tennessee and Ohio State
But you're in no hurry to make a decision, still, right?
Yeah, I'm taking my time.  I'm feeling out all the programs and their coaches and see where it leads.
Will you take a look at the players you will be playing with?  If so, how important is something like that?
That's real important.  I want to play with guys who want to win and get better.  I'm trying to win a championship.
I'm just going to come in and do my thing.Do you have any favorites at this time?
Naw, not yet.  Nobody is sticking out yet.
Ohio State is new to your list.  Did they just come in?
Yeah.  And Louisville came in recently.
Some are saying that Kentucky and Duke might be the early leaders.
No not really.  I just knew players at Kentucky and players from Duke, so I was like around those two teams from players I knew.
What areas of your game need work?
Stronger and faster, you know me, I just want to work on everything.
You played for another team just now and nailed in three, three pointers and had a dunk.
 Yeah.  I have been working on it.  I was able to play one haldfor them, but we're leaving now.
Yeah, I chatted with Deuce and Brian Clifton earlier. Take care and good luck.
Thanks [/private]