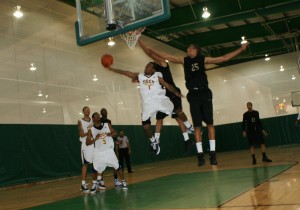 As you all know by now, I have been off line for 72 plus hours due to a hard drive crash.  Is this where I say avoid Dell for they are not what they used to be?  Anyhow, I will spare you the rest of the gory details 🙂
I will have a lot of information coming from the Southern Invitational starting tomorrow.   No  more news on the John Wall front, but I do think [private] Brian Clifton likes what Duke offers, but I did not get the impression he was a major lean.  He did seem to want John to make sure of his decision and as I said he will go where he does by the blessing of his Mother.
You can read into that many ways, so let it play out a bit longer.  The talk of Kentucky leading could very well be true, but there is only one ball to go around with Meeks and Patterson eying the league by electing to come back.  The team which has gained ground is Florida.  Okay, enough on that for now, let's move on.
Quincy Miller mentioned Duke this weekend where he hasn't much before.  He also said that Coach K would be checking out one of his practices shortly.  Chris Spatola made contact recently, so Miller is on the radar.  I will have an interview with him shortly.
I will have an interview with Ryan Kelly some time this week as well.  I was to have called him back, but the hard drive issue halted everything.
CP-3 crushed Boo Williams in the championship game this weekend.  Reggie Bullock is the real deal and the Enloe duo which I will cover later this week was large in this game.  Boo was taken out of their game from the word go.
Boo Williams defeated DC Assault to get to that game, where Andre Dawkins scored 21 second half points after tallying 2 in the first half.   Tyler Thornton guarded him tightly before getting into foul trouble.  Josh Hairston was held to 3 points.
I will recap how each of these kids played in the coming days and break their game down for you.  Interviews with each one are coming as well.  Another player who had a 24 ppg average was Quinn Cook and we will hear from him and others. 
So, let me get settled in with a borrowed computer and I will start to churn out some information.  I'm truly sorry I couldn't update from the event this weekend.  We'll catch back up and show you why this site provides the best coverage around. [/private]