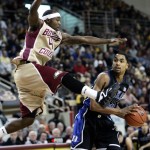 Duke will take to the court  for the first time in  the 2009  ACC Tournament where they will face Boston College in the nightcap.  The Blue Devils will try to avenge a loss in Chestnut Hill when they take on Boston College.  The Eagles had little problem defeating Virginia 76-63 to make it into the quarter final match up.
The Eagles shot lights out from the free throw line going 31 of 36 for 86% in their first round win.  They also saved their legs playing nine players, but part of that was due to foul trouble.  Tyrese Rice exploded on the Blue Devils in the second half in the teams last outing and with him going just 1 of 7 from the field against Virginia, you can bet he will wake up against the Devils.  It's worth noting that Rice did go 7 of 8 from the free throw stripe.
One of the players who led the Boston College comeback win in the first meeting was Rakim Sanders.  The athletic swing player must be contained.  He killed the Wahoo's on several occasions and his ability to get to the rim and get his shot off can cause problems.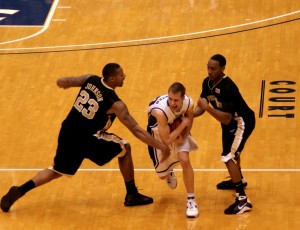 Duke will likely counter Sanders with Gerald Henderson.  "G" was as good as any player in the conference down the stretch, but he struggled in his last game out against North Carolina.  Duke will need Henderson to return to form on the offensive end.
Joe Trapani had one of his best games of the season versus Duke in Chestnut Hill.  He's versatile and has to be watched inside and out.  Kyle Singler will be counted on to slow him down, but we all know that the Duke defense switches at will and while he will start out on Trapani, help defense is the key.
Much has been made of Singler tiring down the stretch, but his last outing showed no signs of fatigue.  Singler, along with Scheyer and Henderson are Dukes most consistent players and Duke fares well when all of them play well on the same night.
The return of Nolan Smith will certainly help with depth, but he will likely be a bit rusty.  Duke got little production from the bench in the UNC game, so all eyes will be on Paulus, Zoubek and company.
Zoubek could play a big role, especially when Josh Southern is in the game for BC.  Duke will also have to keep an eye on Corey Radji, a streaky player which bolsters their front line.
The Eagles are assured of an NCAA berth win or lose and come into the game 10-7 versus ACC competition and 22-10 overall.  They have a win over #1 rated UNC in Chapel Hill to their credit which shows what they are capable of doing.
Al Skinner has a team that never gives up.   In other words, they'll keep playing hard no matter how many points they are down.  In short, Duke will have to match their toughness with just that and intensity.
Two bright spots for Duke coming in is the play of Jon Scheyer and freshman Elliot Williams.  Williams didn't get off the bench in the first game and he will add a new dimensions to the game.
Scheyer has handled the point guard duties masterfully.  Since he took over the point and Williams was inserted, the Blue Devils have had much fewer turnovers.  It will be important to protect the ball and keep the Eagles off the line.  It would also help to get to the line.
Coach K and his staff has had time to prepare and while many are making this game out to be a revenge game, the Dukies will likely treat it differently than the fans might.  Look for the Blue Devils to try and get many players involved early on and implement their will of how they want the game played.
Duke doesn't have a luxury of having a game under their belt, but then again the Eagles didn't get an extra day of rest.  Duke may struggle early in the cavernous dome setting for they have spent little time on the court.  Duke had a slightly longer lay off than they are accustomed to as well.
I think Boston College will give Duke their best shot, but that the Devils will find a way to advance and should get better production from their bench in this game.   The pick here is Duke 79 Boston College 71