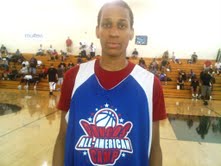 Rashad Muhammad is the younger brother of the much heralded Shabazz Muhammad, HoopScoop's top ranked player in the class of 2012, but he is not  overshadowed by his family's extensive athletic bloodlines. Rashad's father, Ron, played basketball at Southern California and his mother, Faye, was an All-American in track at Long Beach State. His older sister, Asia, who spent time at the Agassi Academy, is a budding tennis professional. The youngest Muhammad is a 6'4" guard, from Bishop Gorman in Las Vegas, NV, who will team with his older brother in a bid to bring the school three consecutive 4A state titles. Last weekend, he competed with Dream Vision at the Bob Gibbons AAU tournament in North Carolina and toured the schools of the Triangle region. This past weekend, he was invited to the Pangos All-American Camp in Long Beach, California. The rising sophomore played well enough to be selected to the Top 50 Cream of the Crop Game, one of only three members of the class of 2013. After the game, Rashad spoke with Blue Devil Nation about a variety of topics including his recruitment, how he compares, competes, and plays with Shabazz, and his favorite school growing up.
It's very early in the process, but what schools have expressed interest in you and do you have any firm offers so far?
I have two offers already from USC and Northwestern. I've gotten a lot of interest from UNLV, Arizona State, and Arizona as well as USC and Northwestern. There are a lot of other schools showing interest, but those are the only two offers.
What position are those schools looking at you for? What do you like to play?
I'm really more of a one now. I'm trying to learn it. I've played the two before, but I just want to learn the one right now.
What's your current height and weight?
I'm 6'4" and 180.
Who's your favorite player?
My favorite player is Kobe Bryant. Yeah (laughs)
How about competing against your brother? That's got to be a unique experience.
Yeah, it is. We always clash, but [private]  it's all good. (laughs) I know he's one of the top players in the country.
You help him out as much as he helps you.
Yeah, that's the way we feel. It helps us both I think.
Now, do you guys work out together?
Yeah, we work out everyday.
Is that in Vegas or...
It's in Vegas.
What do you feel are the similarities and differences between you two guys? I had never seen you before this camp, but I have seen Shabazz.
Oh, really, he's more like an old-fashioned player. He tries to slash to the basket and play inside too. I think I'm more comfortable playing either on or off the ball. I can hit the open jumper.
What do you see as your strengths and weaknesses?
I think I need to get a little stronger that's my weakness. I think my strength is my shot. I can shoot the ball pretty well.
Now, can you shoot the ball better than him?
Oh, yeah, yeah (laughs).
What about your father? How does he help out?
He helps us a lot with our workouts. He gets on us and pushes us. He was a former player so that helps.
At USC?
Yeah, he played for USC in the early eighties.
Growing up, did you have a favorite school?
Oh, yeah, my dream school growing up was Duke, but right now I'm looking at a lot of schools.
Have they indicated that they're going to pursue you? I know it's very early for them and for you, but you were out there last weekend.
Yeah, we were out there, but maybe in a couple of years or whatever. We'll see.
I know they don't offer kids until later in the process. What was your impression of the school, after getting an opportunity to see it up close?
I liked the way they played and the facilities. It was really nice and then we went over and saw UNC.
Did you see the campus at all?
Oh, yeah, we saw that too and just had a nice tour. It was cool.
Last year, for whatever reason, they had you play on the JV team and put up big numbers. I know they're a great team and they're going to move you up this year. Talk about that and have you guys ever played together for an organized team?
Well, besides the middle school team, yeah, it's the first time we're going to play together.
How do you think that's going to work?
We play really well together. We know each other. I think it'll work out alright (laughs). We work well together.
Are you guys interested in playing in college together?
It's something we've thought about we'll see. We still have time. I'd definitely be interested in that.
Well, I'm sure some Duke fans are hoping you'll get to play together at your favorite school.
(laughs) Yeah, yeah
In this game, you knocked down several open threes. Do you feel completely comfortable shooting all the way out to the three point line at this point?
Yeah, I think that's my range right now.
Thanks a lot, Rashad. It was nice to meet you.
Yes,[nodding] thanks a lot [/private]