Browse:
Home
/
Rasheed Sulaimon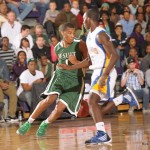 By Mark Watson on December 29, 2011
Rasheed Sulaimon bounced back to lead Strake Jesuit past Wheeler by a score of 70-63.  Sulaimon led his team in scoring with 26 points and after the contest BDN Premium caught up to him for a 1 on 1 interview where he speaks of talking with Coach K and many other things, including his upccoming […]
Posted in BDN Premium Articles, Duke Basketball Recruiting News | Tagged BDN Premium, Blue Devil Nation, Duke Basketball, Mark Watson, Rasheed Sulaimon, Strake Jesuit Basketball, watzone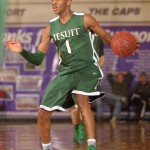 By Mark Watson on December 29, 2011
Here is a Rasheed Sulaimon clip after last evenings loss. Sulaimon has been playing sick and is having a much better game today with Strake Jesuit up big.
Posted in Duke Basketball, Duke Basketball Recruiting News | Tagged Blue Devil Nation, Hoilday Invitational Raleigh, Mark Watson, Rasheed Sulaimon, Straake Jesuit Basketball, watzone
By Mark Watson on December 27, 2011
Firstly, here is to hoping all of the Blue Devil Nations is having a fabulous Holiday Season!  For me, it's right back to work as I head out to the former Glaxo Tournament now called 2011 HighSchool​OT.com Holiday Invitation​al to check out future Dukie Rasheed Sulaimon in person.  I will also take in two budding […]
Posted in Duke Basketball, Monday Musings | Tagged Blue Devil Nation, Duke in the NBA, Gerald Henderson, JJ redick, Luol Deng, Mark Watson, Quinn Cook. Kyrie Irving, Rasheed Sulaimon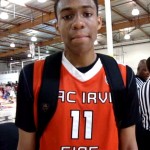 By Mark Watson on December 13, 2011
The Holiday season is upon us and that means Duke Basketball plays just a couple of December games, but make no mistake, it is still a busy time.  The Duke Men's Basketball staff will put in their frequent flyer miles and burn a little rubber as they hit the recruiting trail and BDN Premium brings […]
Posted in BDN Premium Articles, Duke Basketball Recruiting News | Tagged Blue Devil Nation Premium, Duke Basketball Recruiting News, Duke hits recruiting trail, Jabari Parker, Jahlil Okafor, Julius Randle, Mark Watson, Matt Jones, Rasheed Sulaimon, Tony Parker, Tyus Jones
By Mark Watson on November 10, 2011
It's time for this season fourth edition of BDN's Duke Basketball notebook as the Blue Devils are set for tip off.  On to the yapping – Duke has a tough opener vs Belmont, Maui Invitational bits It's been a long time since Duke opened with an opponent as dangerous as Belmont, who they play Friday at 9:00 in […]
Posted in Duke Basketball | Tagged Austin Rivers, BDN Duke Basketball Noteboo, Blue Devil Nation Twitter, Copach K, Duke vs Belmont, Duke vs UNC Alumni game, Jabari Parker, Mark Watson, Maui Invitational, Rasheed Sulaimon, Seth Curry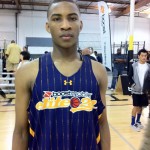 By Varand Khachadouri on August 29, 2011
While there was a boat load of Duke recruits this week in L.A for the Boost Mobile Elite 24 there was only one Duke commit, 2012 Rasheed Sulaimon. Rasheed started out the event with a solid performance vs. the pro's on Wednesday night where he showed his solid 3 point shot as well as his […]
Posted in BDN Premium Articles, Duke Basketball | Tagged Blue Devil Nation Premium Access, Duke Basketball Recruiting News, Elite 24, Rasheed Sulaimon, Rasheed Sulaimon Duke