[private]Two of the State of North Carolina's top private schools met on the court Friday evening when Ravenscroft hosted traditional power Greensboro Day.  Ravenscroft entered the contest at 7-0 while Greensboro Day sported a 10-0 record and something had to give.
Greensboro Day came out of the gate playing like a well oiled machine, extending their defense and pushing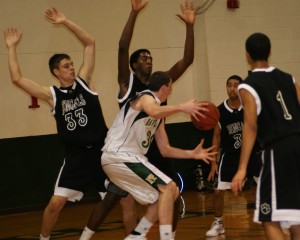 the Raven guards out.   Javon Mitchell led them early on hitting key back to back buckets to keep his team ahead.
Meanwhile, Duke commitment Ryan Kelly kept his team in the game with 10 points and 7 boards in the first half.  Kelly struggled a bit with his outside shot, and played almost entirely on the perimeter early on.
You might say the two teams were feeling each other out and the Ravens were never quite settled in early.  Every time they'd mount a comeback, Day would hit a timely bucket.  Greensboro Day went on to take a 21-20 lead into the half, but Kelly did help bring his team back into the game just before intermission.
When the teams came back out for the second half, it was all Ravenscroft.  A three point shot gave them the lead.  But Greensboro Day  is a well coached bunch and it appeared as if they would trade baskets and were unwilling to go away.  That's before Kelly started to really  make his presence felt.
Kelly made a key steal and then the assist for a bucket.  The next time down the court he threw down a dunk giving his team a 34-30 lead.  The next thing you know it was 38-30 and Billerman screamed at his team to go into a spread offense with 54 seconds left in the third quarter as he realized the tide had turned.
Billerman had rested Kelly briefly during that time, but as the fourth quarter got underway, Kelly returned and the Ravens coasted.  A Kelly dunk gave them their largest lead of the game at 46-36 and the Ravens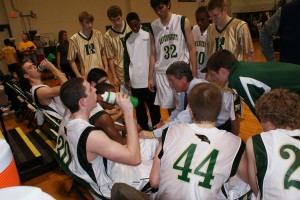 stretched that to a 56-42 margin when the final buzzer sounded.  In the end Ravenscroft came out the only undefeated team going to 8-0, but the feeling here is they haven't seen the last of Greensboro Day (10-1) this season.
"It was a good win.  I thought we played extremely good defense in the second half.  To hold them to 42 points for the game when they were averaging 80 showed the type of defense we can play.  In the second half we started to go into Ryan Kelly some and that certainly opened things up for our entire team," said former Duke Basketball player Kevin Billerman.
Billerman was without the services of his son Sean who plays guard, but they continued to groom Luke Davis.  "Sean dislocated his knee cap.  We went to Dr. Lyman Smith a former Duke football player who is an orthopedic surgeon.  Lyman felt like he was lucky he didn't tear his ACL.  We look forward to getting him back," said Billerman
When asked of the play of Kelly, he stated, "Ryan is a multi skilled 6-10 kid.  Somebody who probably 50% of the time brings the ball up the court for us.  He didn't make quite as many jump shots as he usually does, but he had what ... 4 blocks and 4 assists?  He's a multi talented, multi skilled player."
With his outside shot not as accurate as normal, Kelly asserted himself on the blocks in the second half.  Kelly showed off his versatility ending up with 29 points, 14 rebounds, 4 blocked shots, 4 steals and 4 assists.  The only negative in his game were the 6 turnovers I had him with.  Still, he drew 10 fouls on the opponent and altered 4 shots on the evening.  In the end, Day had no answer for the Kelly.
"Tonight was a big step for our team.  That was a big game in our schedule and to come out with a win going into the Christmas tournament in Columbia," said Kelly when commenting on the game.
Ravenscroft now looks ahead to a match up with defending state champion Christ School of Arden.  The two teams will meet at the Chic-Fil-A Invitational on December 20th in Columbia, South Carolina.  Duke fans have awaited this game as well in that the two 2009 commitments, Mason Plumlee and Ryan Kelly will oppose one another.  The game tips off at 8:00 EST, but it is on the same day Duke takes on Xavier at 2:00.
When asked of Christ School-Ravenscroft showdown Kelly stated, "I can't wait for our match up with Christ School.   They are considered the best team in the 3-A.  Obviously Mason (Plumlee) is a great player and I look forward to matching up and playing against him."
Blue Devil Nation Premium Subscribers can read the entire interview with Ryan Kelly and get more of Coach Billermans comments on the upcoming battle with Christ School and more.  Why not join today and catch up with recruiting and get behind the scenes with unique coverage.[/private]