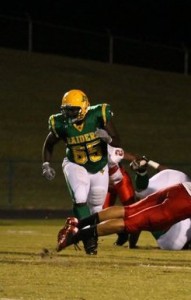 Under Coach Cutcliffe, the Blue Devils have built one of the top offensive lines in the ACC, ranking near the top of the conference in sacks per pass attempt a year ago. The offensive line is expected to be a strength yet again this year, led by senior Brian Moore and Freshman All-American Laken Tomlinson. The Blue Devils' coaching staff is looking to continue to build strength up front in the class of 2013, and have the top lineman in the state at the top of their wish list. Tyrone Crowder is a  6'2" 310 pound offensive guard prospect from Richmond Senior HS in Rockingham, NC. An ESPNU150 Watch List member and with 14 scholarship offers already, Crowder will have his pick of schools from across the country, but three in-state ACC schools have made a solid early impression. After his recent visit to Durham for the Duke vs. North Carolina basketball game, BDN caught up with the talented lineman to get an update on his recruitment. [private]
BDN: How would you describe your strengths as a player?
I guess I'd say I'm explosive, have quick feet, and am just explosive at the line. That's pretty much it.
BDN: What are you working on this offseason as you prepare for your senior year?
Lots of things. Right now, just working out some of the wrinkles, just the basic steps and improving my pass protection.
BDN: As you approach your college decision, what are the most important things you are looking for in a school?
A great program, great coaches, and the campus lifestyle, because I'll be there for 3-5 years. I haven't really set up my major, but it might be a factor.
BDN: Do you have any ideas for what you might want to study in college?
Not right now, I'm working on it, but I'm just getting started.
BDN: Where do you stand with offers and which schools are you hearing from the most?
I have 14 offers, but I'm hearing basically the most from the schools in North Carolina.
BDN: Which schools have you had a chance to visit recently?
Duke, [North] Carolina, and [NC] State.
BDN: What did you like about those visits?
The coaches, all the coaches are great there. I got to visit the campuses a bit, they were nice, and see the facilities.
BDN: Are there any coaches you have started to develop a close relationship with?
From UNC, me and Coach Kap[ilovic], we talk basically once or twice a week. Also Coach Bridge from [NC] State, and Coach Collins from Duke.
BDN: Are there any other schools you plan to visit or would like to hear from?
Well, I know I'm planning on going to Florida this April 6th.
BDN: Do you have a timeline in mind for when you plan to narrow things down or make your final decision?
Right now, I don't really have a timeline, but I'd like to narrow it down soon, I haven't really decided it yet. For making my decision, whenever I feel like I know where I want to go, I'll just make my decision and make it, it doesn't have to be on Signing Day...I'll probably have a top five soon.
BDN: Thanks a lot, Tyrone, and best of luck.
Okay, thanks.
[/private]