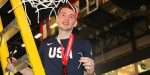 The Duke Men's Basketball staff will be out on the road recruiting as the open period begins today.  The NCAA allows the team to have on and off-campus contact with student-athletes through the 14th.
The Blue Devils got a shot in the arm when Tre Jones decided to return for his sophomore season but they are now trying to finalize next years roster.
Despite having layered back up options, it would appear that they want to round out their roster with ...
To read the entire information laced article join Blue Devil Nation Premium during our current discounted yearly rate and finish off the latest article on the Blue Devil Nation message board.