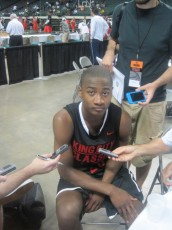 "The only source of knowledge is experience."
-Albert Einstein
Last year, Rodney Purvis was a carefree, rising sophomore, who had just finished his freshman year at Upper Room Christian Academy. Sporting braces, he was set to spend a summer as the youngest member of Chris Paul's 17-and-under CP3 All-Stars and be the only member of the 2013 class attending the King City Classic.  After a successful summer on the AAU circuit, the Raleigh native had a bevy of schools pitching their merits. Last October, Purvis decided to accelerate his recruiting process by reclassifying back into his original 2012 class. In December, he took it a step further by verbally committing to the University of Louisville.
In April, he began playing once again for the CP3 All-Stars and head coach, Tony Edwards. During this year's Nike's EYBL season of fifteen games played over the course of three sessions in Virginia, Dallas, and Los Angeles, Purvis played quite well andwas quickly forced to  become the vocal leader of his newly banded squad. Always known as a scorer (entered the final game ranking second in scoring in Nike's EYBL) and a penetrator, the 6'3" combo guard worked on his point guard skills over the past two months, while expanding his shooting range. He finished fifth in the EYBL in assists andshot 42% from beyond the three-point line over CP3's fifteen games. As part of his growing leadership role, one of the young AAU teammates he sought to mentor was Greensboro, NC freshman Theo Pinson, who chose to attend Duke's Countdown to Craziness and was recently named ESPN's number one prospect in the class of 2014.
On May 2nd of this year, Rodney Purvis de-committed from Louisville. The action was in reaction to the departure of Tim Fuller, a well-traveled assistant, who was most recently with Louisville and with whom Purvis had developed a relationship over the years. Coach Fuller elected to head out to Columbia, Missouri to join Coach Frank Haith's staff.
In the City of Angels, Raleigh's Rodney Purvis spoke with Blue Devil Nation about a myriad of topics.
Can you talk about opening up your recruitment?
Straight ahead is another outstanding in depth interview with a main Duke target from our recruiting analyst, Andrew Slater.  As you can see by the intro alone, Andrew knows his subject matter through and through.  At BDN, our representatives have not only seen these kids play various times in person, they study tirelessly in a effort to bring you the best interviews available on any Duke site.  Join BDN Premium and see for yourself the immense quality BDN brings to the table.  And if you don't like this interview?  I will give you a full refundwithin 24 hours.  It's time to join the site that really knows the way around the recruiting trail.  Many more interviews coming your way and we personally think you will not only see the difference in coverage, but you will agree, it is unmatched . Do you think you know Rodney Purvis and his situation?  Then you must already be a member of BDN Premium. [private]
Well, after Coach Fuller left, me and my family felt that it was best for me to open up my recruitment and develop a relationship with the new coaching staff. That's how that happened.
You touched on it, but what did the impact of Tim Fuller leaving have on your decision?
Oh, it was a huge impact! He's kinda like a big brother to me and I mean I've known him for a really long time. I just felt comfortable going to Louisville… with him being there. So, him leaving was kind of like a setback or whatever.
And how did you first meet him? How did you guys get to know each other a little better? I know of his involvement with Nike.
Yeah, over the Nike stuff and him and Chris Paul was cool and then I was playing for Chris' team and I got to know him and so..
What was their reaction when you told them the news? Were they cool with it or were they a little angry?
Oh, I'm not really sure. I just spoke with Coach Keatts and the new coaching staff that was there. So, I'm…I'm not really sure.
Alright, we can just move on..
(laughs) Yeah, yeah, yeah
With some perspective, what are you looking for this time, as opposed to when you initially decided?
Oh, I'm definitely trying to get a relationship with every single coach on the coaching staff and, most importantly, the head coach this time. We'll just go from there.
Now, is that a lot different from when you first decided? You're a little older and more mature.
Yeah, yeah.
Do you have a timeframe for when you'd like to decide by?
Oh, no, I don't have anything in mind.
Do you know where you'll be going to high school next year?
Upper Room Christian Academy
Oh, okay, I was looking at the school's website and they said they're only going through eleventh grade this year and likely expanding through twelfth grade next year.
Yeah.
In terms of high school, what are your goals for next year?
Oh, I'm trying to be a McDonald's All-American next year and finish up, at least, top five in the country. Not that rankings don't really matter to me, but I just want to set that as a goal for myself.
Before meeting with you, I was re-reading an interview that we had done last summer at the LeBron. You said, at the time, your goals were to get stronger so that you could finish through contact and that you wanted to improve your jumper, both mid-range and three-point shooting. Do you feel like you've improved in both of those areas over the past year?
Oh, I think I'm doing pretty good with it, you know. I'm up at five o'clock in the morning and in the gym every day working on my jump shot and different dimensions of my game. I feel like I've improved a lot, but I've still got a long way to go.
What about in the strength area, how have you tried to improve?
Oh, yeah, I'm trying in that area too. I'm going to an aerobics class and a yoga class.
 I saw the other day that you said on Twitter that the whole family is going to yoga classes now.
Yeah, yeah. (laughs)
There's a little bit of a downtime in the next month. What are you hoping to improve upon most this summer?
Still my skill work. I want to keep improving my jumper. I want to keep working on becoming a better leader. I want to work on my point guard skills. That's it.
Are you trying to become more of a pure point or just improve one area of being a combo guard?
Yeah, exactly, I still want to be a combo. I don't want to take away from my scoring.
Yeah, because, no offense, but your strength is your scoring, particularly off of penetration.
Yes, it is.
You were just mentioning that you wanted to improve your leadership ability. How has your role changed on this particular AAU team versus the one you were on last year?
Oh, well, you know last year I was the youngest on the team, but I guess I didn't really play a huge part to the team.
Well, you made important contributions. There were games where they needed you to be the second or third option on the team.
Yeah, you're right. I mean I started every now and then. I just tried to come in and bring energy when I came in the game.
Back to leadership..
Yeah, that's definitely something I want to work on with this team. They really look at me as the leader.
When I saw you in Dallas, I saw that different dimension, where, now, guys are looking to you and the coaches wanted you to set the tone out there.
Yeah, yeah.
Speaking of your teammates, can you give the audience a little scouting report or run down on Theo (Pinson)?
Oh, yeah, Theo's long. He's very athletic. He's still young and he's still got some maturing to do. By the time it's all said and done, he'll be a really good player.
What kind of advice or guidance do you try to give him?
I just try to stay on him all of the time. You know sometimes he messes up and thinks he's playing with his age group.
Right.
You know he'll come in with, like a weak lay-up or something like that.
A little cocky.
(laughs) Yeah, yeah, yeah. So, I just try to stay on him. He's got to know that it's a different ballgame out here.
Well, you went through it. You were the young guy.
Yeah, but Dez (Wells) and John Wall would stay on me all the time when I'd be playing with them.
Right..
Still, right now, I feel kinda normal. Just playing the game.
Who are some guys that you've become close with nationally that you've met through AAU basketball or camps?
Shabazz Muhammad, Winston Sheppard, Kyle Anderson, Myles Mack, Rasheed Sulaimon, and L.J. Rose. That's about it.
Mostly through AAU and Nike...
Yeah, yeah
How have you grown as a person and as a player in the last year?
As a person, you know, I'm always open to talking to everybody.
I can vouch for that.
(laughs) So, everybody pretty much thinks that I'm a pretty good person. That's what I care about most. That's what I care about most, you know, being a pretty good person. I'd rather somebody tell me how good of a person I am than that I played well out on that court.
Right, that's good to hear.
Yeah.
I know you're down to four or five schools now. What are the positives of each of those programs?
Well, you know, Kentucky, with Calipari, kind of speaks for himself. You know him with guards and stuff. With Duke, same thing, you know, Coach K is a great coach and it's quite close to home. With NC State, Coach Gottfried and stuff with guards and it's also close to home and then Louisville.
And you know those guys.
With the four that you mentioned, you common theme was their use of guards.
How important was that in the narrowing down process? Was that something that you were specifically looking for?
Oh, yeah, I'm definitely looking for somewhere where I can go and play free. Just get everybody involved and win games.
So, you're not looking for too much of a structured offense?
(laughs) Oh, of course, I'm looking for a structured offense. I'm looking for whatever it takes to win, but I mean..
Not too much..
Yeah, I'd like to feel a little free out there.
I don't think you're allowed, but are you going to be playing in the NC Pro-Am this year?
No, they said that high school players couldn't play this year, but, if I could, I would.
For those that want to check you out, what's your schedule like the rest of the summer?
I'm going to be at the LeBron Skills Academy..
Peach Jam?
Yeah, the Peach Jam too.
Are you going to Orlando or Vegas this year?
Orlando this year.
What's your favorite event?
Probably the LeBron, but I want to get out and do the Boost Mobile 24 this year… if I can get invited.
Don't worry about getting invited. Make the plane reservations now.
(laughs)
In terms of Twitter, what do you get out of it? Are you trying to build an audience and get in touch with your fans? As much as any recruit, you've seen both the positives and negatives of it. You've seen both sides unfortunately.
Oh, yeah, well, with Twitter, I try to keep it as clean as possible. Just talking to everyone. Sometimes, it gets a little out of whack…with some of the comments and things they say about me, but I try not to, um….
Let it roll off of your back ..
Yeah, you know.
Initially, was it a problem for you or did you have thick skin?
Oh, no, it was never a problem. I would just talk about it with my mom and we'd just laugh about it.
Tell the audience a little bit about you mother.  She's always active and vocal.
(laughs) Oh, yeah, she's a great mom. She's a single mother.
Sadly, I know your father died a few years ago.
Yeah, thanks, so, you know, we kind of grew up together. If anything ever happens, I just go to her and we just talk it out.
What kind of person is she?
Oh, she's great. She just wants what's best for me at the end of the day. That's what I like most about her. She stays on me a lot.
Do you have any visits planned? Have you spoken with any coaches lately?
No, I don't have any visits planned, but I did speak with coaches lately. I spoke with Coach Early at NC State and Coach Jeff Capel and Coach K at Duke.
What do you guys talk about? Let's start with Coach Capel and Coach K.
Oh, most of those things are just relationship builders.
You getting to know them and them getting to know you.
Yeah, yeah.
What about Coach Early?
Yeah, I talked to Coach Early and Coach Gottfried too. Those two are just great guys. I'm trying to get to know them and they're trying to get to know me. They're telling how they're going to be new this year.
So, I just want to make sure… You don't have any visits planned over the next couple of weeks.
No, I don't have anything planned.
How do you feel you've played so far this AAU season?
I feel I've stepped up and played pretty well. My team's winning games and, so, that helps everything. I feel like I'm making strides. I just want to continue to get better at each event.
 
Alright, thank you very much for your time.
 Sure, anytime!
More from BDN on Purvis -
Varand checis in with Rodney Purvis
Slaters 1st in depth interview with Purvis
Watzone interviews Purvis [/private]