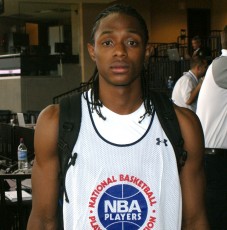 As you know by now Roscoe Smith is slated to visit Duke this coming week.  The visit [private] caught Duke off guard because it was not planned until recently. Despite that, Duke is elated to have him visit, especially Nate James one of the lead recruiters with Smith.  After his visit to Durham, Smith will head to Oak Hill Academy where he will ready for the start of the school year. Our understanding is that Duke will set up an in home visit with Smith in the near future.  Smith still has a standing offer but nobody expects him to pull the trigger soon.
Tyler Thornton and Josh Hairston's official in home visits will take place September the 20th.  Hairston, of course, transferred to Montrosse Christian Academy.  Duke is ironing out last minute details on "Countdown to Craziness," an event that will take place on October the 16th.  The event will kick off the fast approaching season and should be a lot of fun.    The aforementioned Hairston and Thornton will attend the event.  There are other visitors in the works for that day as well, more on that later. 
While Brandon Knight expands his list of schools,  it may interest you to know that Duke is working on an in home visit in September.  One must remember that Duke has kept their name in there for a good while now.  While they would like be happy with Kyrie Irving pulling the trigger quickly, they are covering the bases. In fact, Duke seems to still have some type of back-up plans should Irving and Barnes suddenly sour.  Speaking of Kyrie Irving, Duke will be in-home with Kyrie on September the 9th.    Harrison Barnes is slated for October  the 5th.  Please check past updates for the official visit dates.  Duke is waiting for the Rivers camp to solidify a visit, but they are not pushing for it, instead allowing them to do on their time.  Austin Rivers is still expected to visit in September.  There is word that the visit will coincide with one to UNC as well.
Mason Plumlee will room with Ryan Kelly this season.  Both players continue to work hard in the weight room under Williams Stephenson. Miles Plumlee has the highest measured vertical leap on the team.  When standing side by side with Mason, their hands raised, Miles has about a four-inch reach advantage. Lance Thomas is the team's strongest player in the weight room.  
Recruiting analysis - With Barnes now saying he will take until spring to make a decision, Duke is covering the bases with Smith, a player who has shown a decent amount of interest in Duke.  Duke was obviously hoping Barnes would decide in October.  The same holds true with Kyrie Irving, who Duke will be all over this month.  Duke feels really good about their chances with both kids, but they need one of them to go ahead and verbal no later than October so they can move on with plans for 2011 and 2012.  Other prospects holding offers are  Quincy Miller, Marshall Plumlee and J.P. Tokoto. 
We'll add an addendum to this post a bit later.  Thanks for your patience while I took a mini break and sorry for the run-on post in that I am suddenly having format issues.[/private]