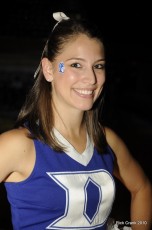 The Duke basketball and football teams both play in what will be a busy weekend ahead for Blue Devil fans and both games should prove to be quite interesting.  In this weeks edition of Monday Musings we'll take a look at the week ahead, offer thoughts on the programs and of course there is our Cheerleader of the Week.
Where were the students?
On a crisp Autumn day in Wallace Wade Stadium, the Duke football team was going back in forth with Virginia in what was an exciting offensive showdown where the Blue Devils came out on top 55-48.  At the start of the game, there may have been 50 students max in the stands and some in the press box thought that number would grow and it did, by maybe 100 and I do mean maybe 100 more.  Meanwhile the football team played with a lot of heart and won a thrilling victory in the last minute of the ball game and they deserved better support.  Despite the lack of students, the ones who there in faith were shown appreciation as the team and Coach went over to celebrate their victory.  I have attended games for a long time and the students were not born for some of them.  With that in consideration, I can tell you that I have never seen such lack of support as was witnessed this past Saturday.  We live in a day when Duke practically has to bribe and coddle the student body to get them to show up at what should be a traditional gathering.  And the scary part is there seems to be no obvious solution.  If you are a student and reading this, how about supporting Duke against Boston College for a win would give the Devils a three game winning streak and their second straight ACC win.  It'd be a lot easier to accomplish if there were more support.
Meanwhile, Duke opens the men's basketball season
During the ACC Media Day in Charlotte, North Carolina I asked Duke Coach Mike Krzyzewski if it were hard to put last season behind him, thinking his answer might be yes.  Nah!  He's beamed in and ready to embark on the 2010-11 season where the Blue Devils will this time start the season where they left off, that being number one in the country.  Duke will miss graduated seniors Brian Zoubek, who attend the exhibition win over Cal Poly, Jon Scheyer who by the way suffered a really devastating eye injury since and Lance "Hustle Bunny," Thomas.  But the Blue Devils reloaded with guy named Kyrie Irving, a really talented, sometimes dazzling point guard, Josh Hairtson and Tyler Thornton to go with the returning cast which features All Americans in Kyle Singler and Nolan Smith.  The first victim will be Princeton this coming Sunday in a game televised by ESPNU which starts at 5:00.  Duke will then turn right around and take on Miami of Ohio on Tuesday.  Do you think the aforementioned students will be in Cameron for the opener?
Before the tip off to the basketball season, Boston College invades Wallace Wade
In the pre-season I picked Boston College second in their division [and I wasn't alone] for there was a lot of returning talent on the team.  The Eagles stumbled early on, but they are now talking bowl and winning out and they are licking their chops thinking they'll take care of business starting with Duke.  Does it seem like it's been a long time since the schools played?  Well, it has for Duke has played them one time since their conference arrival, a 28-7 loss in 2006.  Anyhow, this is a key contest for both schools in many ways.  Duke wants to close out the season with some momentum while Boston College wants to atone for early season woes.  The Eagles have won two straight ACC games with their latest victim being Wake Forest, a team which Duke lost a heartbreaker to.
Duke Basketball will be tested early
This seasons edition of the men's basketball team will face several early tests in November and early December.  Not that we want to overlook some teams but games with Marquette, Gonzaga or Kansas State, Oregon on the road for Kyle Singler's homecoming all in November.  And December brings the #2 Michigan State into Cameron and a rematch with Butler in East Rutherford, N.J.  That's two top 10 teams and two top 25 teams and two just outside of the rankings in short time.
And there will be great catastrophes and rumors of  ...
This past weekend an ESPN Insider speculated on a certain Duke guard transferring.  Not long ago, the media giant started running rumors across the ticker.  Rumors set forth tremors in fan bases and the sky is falling crew just know there has to be something to every little whim, right?  Well, of course they do and that fuels other fans paranoia more often than not.  The mere fact that some rumors are proven to be true seems to justify each and every one be examined under a microscope, despite the fact that the majority of them, like 90% or better are just bunk.  I mean opposing fan bases are constantly planting stuff about one another on the wild, wild west like world wide web.  This especially holds true on the recruiting front where a certain anonymous poster can say something and it ripples through message boards like fire in a dry forest.
And if you run a web site, you will find that no matter how ridiculous some of them are, you are expected to acknowledge each and every rumor to the tune of numerous questions and the aforementioned "Chicken Little" fans.  Oh, and they can be justified for this poster on so and so's board got one right.  Folks, I am here to tell you that people have selective memories.  If you are in my position, they only remember the very few things I have gotten wrong.  Heck, sometimes people even say I gave them a guarantee from lack of comprehension and again, they read what they want to and can reconstruct what you say to fit their selective views.  So facts?  What are they and do people even care anymore?
The BDN staff starting having to address rumors from other message boards, so much so that we started a separate "rumors," board for unsubstantiated blurbs in an effort to keep fact and fiction apart.  Our policy is if there is something out there we'll let you know asap, but if not, or it is another ridiculous rumor we simply will not address the issue and that serves as a message there is nothing to it.  But just as some want to remember your misses and or supposed misses others want to just see rumors as being true, by not only overlooking but avoiding some of the facts.  When ESPN starts running rumors over the ticker wire, it just opens the flood gates for others to do so and we hope they reconsider before they to have to start a separate rumor central area like we have done.  Our motto has long been we deal in fact not fiction and we'll stick by that by stating if what we say is speculation it'll be clear to you and when we are emphatic about say a recruiting or other tidbits, you can take it to the bank.
In closing, thanks for your continued support and visiting the Blue Devil Nation for we all make up that nation.  Have a good week ahead, support the Blue Devils and check back in next week for another edition of Monday Musings and of course the Cheerleader of the Week.
For full site access, join BDN Premium and help support our continued efforts to bring you the best coverage available.