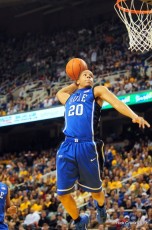 How bad were the web based rumors surrounding Andre Dawkins?  So bad that the Duke Sports Information Department released a brief statement saying he will remain at Duke but could redshirt this coming season.  It's a shame that we live in a world where some feel compelled to break something like this once they get wind of it.
But whether there is smoke or a blaze want-to-be insiders who are self appointed experts via an anonymous posting name or a twitter account force the issue to light before it's time.  This has been the case with Andre Dawkins this off season and there seems to be no end in sight of fans that clamor to know all the details be they private or not and hang on every false and outlandish rumor.
While it is certainly natural for fans to show concern and want to know why a possible redshirt could take place, you can bet there are personal reasons.  And personal reasons mean just that and are sensitive in nature.  Unfortunately that leads to more speculation and people have a tendency to think the worst.
Dawkins came to Duke a year early out of high school and he is attending his dream school.  And it is also a well known fact that he lost his sister to an very unfortunate automobile accident in season not that long ago.  In short, he's been through a lot.  But what I just said may or may not have something to do with what is going on, so you can see the danger of speculation which will lead to yet another probable release.
So while many of you are curious I encourage you to not speculate and be a part of the ridiculous rumors that surround the program these days.  Allow the process to work it's way out for I can assure you it is a bit liquid in nature.  Give Andre and the team for that matter a modicum of privacy.
And support Andre with well wishes instead of questions.  Just act the way you want others to if you were in his place.  Athletes are under a red hot light where almost everything they do is scrutinized and it's sad that every time you turn around, some fan wants to play insider on a message board and speculate so much it becomes real to many.
Just give Andre a break yall and if you want to come in out of the Wild Wild West of reporting, join BDN Premium and get accurate and timely info you can depend on.  I'm unsaddling my high horse now and hope I at least made some of you think before you participate in the next rumorfest.