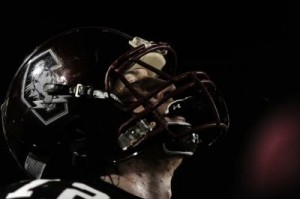 Sam Marshall is a 6'8" 260 pound senior lineman from Fredericksburg, Virginia. He committed to the Blue Devils in July and recently returned to campus to take in the Alabama game. BDN checked in with the big defensive end prospect after his visit.
"Overall, the visit was good, particularly the atmosphere and the fans," he told BDN about his visit. "It was a tough loss, but I still saw some good things."
During his visit, Sam was able to catch up with Coach Roper, Coach Hobby, and Coach Cutcliffe. He told BDN the coaching staff and the prestige of a Duke education were the big selling points that led to his commitment. Though he plays both offense and defense in high school, the Blue Devils' coaching staff intends to use Sam on defense, which was another important factor in his decision, as other schools were recruiting him as an offensive lineman. His height is likely to wreak havoc on opposing quarterbacks, which will be a welcome new dimension to the Duke defense. Before choosing the Blue Devils, Sam held offers from Virginia, North Carolina State, Marshall, Louisville, East Carolina, and Western Michigan.

Sam's team at Chancellor High School has started off 2-1, though Sam missed the second game (a loss) with an ankle sprain. He said he's back near 100% now, and is working on "getting stronger and faster and better in all areas" over the course of his senior year. So far, he's recorded 6 tackles and a sack in two games.
In closing, Sam told BDN, "I'm excited to join the Duke program and help the team any way I can."