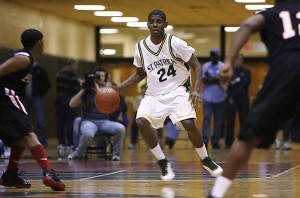 Here is the second part of BDN's coverage of the Pitt Jam Fest and Duke prospect Kyrie Irving by Andrew Slater.  Sandy Pyonin is the energetic head of the New Jersey Roadrunners, has taught and coached at the high school level, and trained thirty-one former and current NBA players. Some of his former players include Randy Foye and Al Harrington, as well as two former Duke players that have had their jerseys retired, Bobby Hurley and Jason Williams. One of Coach Pyonin's current players is Kyrie Irving, the 6'2" St. Patrick's guard and Duke recruit. He spoke with Blue Devil Nation about his star pupil and how Kyrie Irving compares to some of his former greats.
Clark Francis began publishing Hoop Scoop magazine in 1983. He has watched his scouting service grow and morph into one of the largest and most well-known in the country. Francis also chimed in with his thoughts on Duke recruit Kyrie Irving.

Blue Devil Nation: Can you talk briefly about Kyrie Irving as player and as a person?

Sandy Pyonin: First of all, he's a great person. He comes from a great family. His family is super nice…a very bright family. His father went to BU...Boston University. He played basketball there. His father taught him most everything that he has learned. He's played for me for the last two summers. I've had thirty-one NBA players. Kyrie has a great work ethic. It would be on par with an Al Harrington, who I trained. He couldn't make lay-ups as a sophomore, but went from high school directly to the NBA. Kyrie loves to play basketball. He works at the game continuously to get better at different facets of the game. He's going to Saint Patrick's and so he's getting ongoing training from Kevin Boyle. He's still growing and so he's 6'2" now and he could very well wind up at 6'4" or 6'5." [private]

BDN: His father is 6'4"

SP: Yes, his father is 6'4" and Kyrie is only sixteen. Oh, wait, he just turned seventeen
Blue Devil Nation: Can you compare him to some of the great players you've ever had?

Sandy Pyonin: I mean I've had 31 NBA players. I had Randy Foye. He's probably the best guard I ever had. I've had Bobby Hurley. I had David Rivers if you want to go back. I had Brevin Knight. Just trying to think of other point guards. I had Shaheen Holloway.

BDN: Now at Iona

SP: I don't want to leave anyone else out. Each of those players brought something to different to the table. He still has to improve on leadership and improve on defense. Well, improve on every aspect of his game, but.. the sky is the limit for him. The sky is his limit. He could be as good as any of them…at least as good.

Blue Devil Nation: Do you view him as a point guard or a combo guard?

Sandy Pyonin: I think he'll be a great point guard, but because he can shoot the ball so well he can play combo…so he can do both. I want him to play point guard for us and work on his leadership ability because I think that's where his future is for us…at point…specially if he has the intention of going into the NBA someday.
Blue Devil Nation: From when he last played for you, how has he improved and changed in the current school year?

Sandy Pyonin: At first, I think he was really just trying to find his way. He was at a new school and with a new situation and he came on strong at the end of the season, but, to be honest with you, he was at that level last summer towards the end and he will pick up from there now and probably be three times better now that he's been through that. He's back with us and you see he has more of a role with us. He takes much more of a leadership role with us. There he had those guys that were in place. Now he will have that role for them next year at St. Pat's, but he has that role for us right now.

Blue Devil Nation: As a professional trainer, what are some things that you'd like Kyrie to work on physically over the coming months?

Sandy Pyonin: Obviously, he's got great agility, as you will see tonight, when he plays. I think his jumping will improve and he can really jump. He's dunking more consistently than he did last summer. That's for sure. As far as other improvements, yeah, he's got to get stronger. He's got to consistently hit the weight room. We've already discussed that, when I spoke with his father the other day.
BDN: Where would he work on his strength specifically?

SP: Locally. I mean we have great people around that can work with him on that aspect.
Blue Devil Nation: I wasn't sure if you'd work with him on that aspect.

Sandy Pyonin: No, I don't really work with him on that. My thing…I mean I lift myself, but I don't. I'm aware of the importance of lifting and strength, but I pretty much restrict myself to the other aspects. I try to lift the kids to a higher level in terms of skill wise as a basketball player and talent, but I try to work with them on the mental aspect game as well. Get them to concentrate on the mental aspect of the game. I'm really big on that, where other…well, most other coaches don't emphasize that enough.
Blue Devil Nation: You mentioned before that you really wanted him to work on his leadership ability.
Sandy Pyonin: Yes, all through this summer. You know just guys like Randy Foye will spend some time with him…and Al Harrington will be around the program. Although Al isn't a guard, he has guard skills. He also has great knowledge.
BDN: He's also the sponsor of the team.
SP: Yes, Al helps sponsor the team for the most part and he's around the team, which is great. Now that he's with the Knicks, he'll be around our program even more. He may even sit in on the bench. Al's just been great.
Blue Devil Nation: Can you talk about Kyrie Irving, including his potential as well, as his strengths and weaknesses?

Clark Francis: Kyrie Irving has unbelievable potential. I don't think he's a pure point guard at this point. He scores so well and he can be a top five player in this class. I don't know that he's a top ten or fifteen or even twenty player at this point. I think he's really more of a two than a one right now because he has such a scorer's mentality and again, when I saw him, it may not be fair to judge him. When I saw him, he had only just come back for a couple of weeks. When he was playing for St. Pat's in early February…when he was playing on the thirteenth and fourteenth of February in those two tournaments...so, you know, that's why we're here.
You know… to see what happens. I hear he plays better playing with Sandy, but, you know, we'll see. I mean talent wise, athleticism-wise, etc. his potential is off the hook. I mean if he grows another inch or two then that's scary too. I mean he could very well wind up being 6'4" to 6'5" and maybe not be a pure point guard, but a scoring point guard, where he could make a lot of money in the NBA. I mean he could step right in and run my team. I mean let's say if I have four super players at somebody like Kentucky and I can get him,  he'd be great at point guard. If I've got a couple of weaknesses or height problems and I need him to do a few things in order to make the people around him better, than he may not be the answer, but we'll see.
He's got to be careful to pick the right spot. To be the best player that he can be…to highlight what he does…to get drafted as high as possible… his college decision on who he plays for…I mean being in a wide-open system where he has other great players around him, that's going to be most important for him. If he goes to some place where they play half-court and just throw the ball down and not utilize what he does best, well, they're going to have problems. I mean he still will be one of the better players the country in college basketball, but will he be as…um

Blue Devil Nation: Able to maximize his potential?

Clark Francis: Yes, and that's a good question. I mean you watch a guy play one, two, maybe three or four games and you can make a mistake. If you see a guy thirty or forty times, as I hope to see him over the next year or so, well than I'll probably have a lot better feel for him. Right now, I've only seen him maybe a couple of times at the Bob Gibbons tournament and a couple of times in January and February. Optimally, it'll be a lot more than that, but well see

Blue Devil Nation: How do you feel about his defense, as an on-the-ball defender?

Clark Francis: Okay, not great, but could be a great defender if he wants to be. I mean, with his athleticism and good core attitude, he can be great at as well.
Talk about this article on the Blue Devil Nation Premium message board.  There you will find much more information on John Wall and the latest recruiting happenings which cannot be found on the main board.  Having trouble getting on the message board?  Contact Mark at watzonebdp@gmail.com[/private]