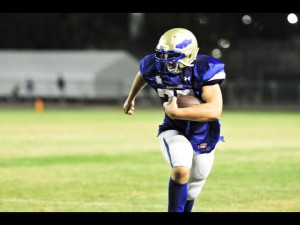 In their three-plus years in Durham, Head Coach David Cutcliffe and Offensive Line Coach Matt Luke have built the Duke offensive line into a position of strength. The past two recruiting classes have brought in a very good group of offensive linemen, and the Blue Devils hope to continue that trend with the class of 2012. Max Tuerk is a 6'6" 275 pound offensive lineman from Santa Margarita, California. Though he's early in the recruiting process, the junior already holds offers from Duke, Washington, and SMU. Highlights from his junior year, which earned him 1st Team All State and Trinity Lineman of the Year honors, can be viewed here.
BDN: Can you start off by describing your strengths for fans who haven't had a chance to see you play?
My strengths as a player are I work really hard, I'm always trying to get better in the weight room and practice.  Right now, I've been gaining a lot of weight and that was probably my biggest problem last year, I weighed like 250 only, and now I'm up to 275, and I'm pretty fast for an offensive lineman, so that's probably my biggest strength.
BDN: What are some of the things you have been working on this offseason?
Gaining weight, and gaining strength, definitely.
BDN: What are some of your goals for your senior year?
For the team I've love if we can win our division, we went to the playoffs last year and we lost in the second round.  And I'm hoping that this year we can win CIF, and that'd be awesome for me.
BDN: As you look at your college decision, what are the most important factors you are looking for in a school?
In a college, most important thing is probably just to get to know all the coaches, get to know some of the members that are gonna be in my team.  Know the school, if it's a good school, good academics.  Good campus, just – kind of get to know everything about the school.
BDN: Have you had a chance to visit any schools so far?
Not yet.  I have visited Washington 2 years ago, for like a football tournament, for passing tournament, I went as a tight end, and it was a cool campus, so that's the only school I've visited.
BDN: Do you have any other visits planned for this spring or summer?
Yeah, I'm hoping I can go to Duke.  I'm hoping to check out Washington and maybe SMU even, and I'm hoping to go to USC, check out USC, just the schools around my house kind of.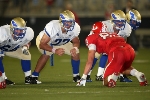 BDN: Are there any schools that you feel like you've developed a good relationship with at this point in the process?
Yeah, definitely.  I've talked to Duke's offensive line coach this week for a while, actually, and we're steadily starting to get a relationship.  I emailed a lot of the coaches, the coaches at SMU, and I talk to a lot of the coaches on almost a daily basis, and we're definitely developing relationships.
BDN: Is there anything else you think is important for college football fans to know about you?
I'm a good kid and I work really hard, and I'm hoping to – I love football, and I'm just hoping it'll take me to college.
BDN: Thanks a lot, Max, and best of luck to you.
Alright, thank you.