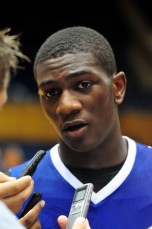 The 2012 class is full of wing prospects and one of them is Pennsylvania native, Savon Goodman. Savon is one of the most athletically gifted players in the class, with leaping ability that makes you say, "Wow." Not only does he have the vertical, but his strength is quite an asset to his game at this stage. With a host of local schools showing tremendous interest in the prospect, he also boasts a lot of interest from out of state schools. BDN got a chance to get a quick update with the prospect and here is what he had to say.
So school just started for you, how is that going for you?
School flow is going good! Getting things back in order academically, and besides that everything else is well.
When do [private] your official practices start for school?
Official practice doesn't start until about November, but we've been working out with just the team. They're optional workouts. So everyone just comes to those. Just trying to get the chemistry and stuff together as a team.
I understand you guys were supposed to have an open gym a couple of days ago, how did that go?
Yes, and someone was up from Duke.
Who was there from Duke?
Nate James.
Did you get a chance to talk to him at all?
Yes, we just said cordial hello's in passing.
Can you talk about that at all?
Well, in the past he said that he's going to let Coach K know about me, and they're going to start recruiting me hard. Just things like that, they like the way I play.
Was this your first time you've seen Coach Nate James or any of the Duke coaches?
No I've seen them a couple of times around the summer but I didn't notice who he was, so he came up to our school. I just knew he was a representative of Duke.
Could you rhyme off a list of schools that have interest in you?
Offers are Villanova, Virginia Tech, Texas, Penn State, Temple, LaSalle, Miami, Xavier, Wake Forest, Oregon State, Notre Dame and Georgia Tech.
You've got a great list there. You work out with Lamont Peterson is that correct?
Yes, I do.
Could you talk a little bit about that and the relationship with him?
It's a long relationship that we've had. He's like a mentor in my life. We workout from time to time and he tells me what I need to work on, and I work on it and get better and we move onto the next thing.
Will he be a factor in your decision?
Yea, he will, I listen to his word.
Now, being a 2012 kid, is it too early to make a decision?
I figure when me, my mother, my trainer and my high school coach sit down we'll probably have a list at the beginning of my senior season.
Alright, Savon, I appreciate your time and I hope you have a great year in school. Good luck.
Thank you. [/private]