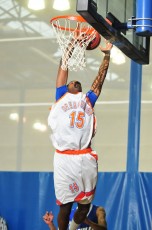 One of the nations most coveted recruiting prospects, Shabazz Muhammad, is currently in the midst of his high school teams playoff run.  Muhammad is one of the Blue Devils top priorities in the class of 2012 but to gain his services they must contend with Kentucky, North Carolina and UCLA for his services.
Muhammad can play above the rim and his athleticism blended with his understanding of the game makes him a prize catch.  The question is where will he play his collegiate career?
Blue Devil Nation Premium spoke with Muhammad about his season and the recruiting process gaining the latest news on the front in this in depth interview.
I hope all has been well for you of late and that you are having success as your high school basketball season is winding down.
Everything is going great.  The playoffs are going really good.  We've played three games and beat everybody by a very good amount, so everything is going great and we are really comfortable moving forward in the playoffs. The teams we've played are the ones we'll see in the finals, so we are taking care of business there.
The last time we talked you had a fairly long list of schools.  Has it changed any since that time?
It's pretty much the same.  I don't have any order or a top three or five, just a lot of schools currently in the mix.
Let me see if I get this right ... Texas, UCLA Duke, Kentucky and North Carolina? [private]
Uh, UNLV and UCLA.
I understand that UCLA has been making a big push at you of late, is that true?
Yes, they have been.  I really like them.  Coach Howland is a great coach, he has coached a lot of good players and has done a good job.  I always watch them on TV and follow them from home and that's really a program I look at.
What about Duke?
Yeah, I've been talking to Coach K.  I talked with him last week.  He's a very prestigious coach as everybody knows.  He just loves his players up and down.  He's a great coach and I talked to their assistants -- Coach Wojo, he's a great guy and he helped with USA so he had a lot of experience training those guys and it's a great atmosphere there and I'm looking forward to going down there again.
When you say going down there again, when might you visit?
No visit planned yet, but they'll probably be one soon planned for Duke.
What about Kentucky?  The last time we talked you said you haven't visited yet.  Is that still the case?
No I haven't been yet but I really want to get down there.  We really want to visit but haven't found the time yet, so I want to go down there.  The dribble drive offense is pretty  much at your hand, so you can make a lot of decisions.  I think it's a very good program and they allow a lot of freedom.  Calipari is a very good coach, he's a players coach.
What about North Carolina?
I watched them yesterday [UNC-Boston College game] and Williams is a good coach.  They've got some good coaches with a lot of experience.  I talk to a lot of the players and get feedback from them and they really enjoy themselves at Chapel Hill, so it is a good opportunity for me to be recruited by them and all these schools.
You're Phenomballa on twitter and social networking is a big thing these days.  Do you strike up friendships with players at other schools?
Oh yeah.  I have a lot of friends with the guys in college.  Like with Duke, Nolan Smith and Kyrie Irving.  North Carolina?  John Henson, Kendall Marshall, Reggie Bullock and Harrison Barnes ... a lot of guys.  I want to get to know some of the players because those guys are there and I can get feedback on the school.
Any changes in the key factors with concern to your impending decision?
First look at the style of play, then my relationship with the coach and how my parents feel about me going there.  I will just look at a school, concentrate and make the right choice for me.
Now, you have a little brother who is a pretty good baller himself.  What kind of advice do you give him?
I do give him advice.  He is kind of struggling on the varsity level, so I give him a lot of advice and he eats it up, so at the end of the day he's going to be fine.
You told me one time that you decision could come down to the gun or final lap if you will.  Has that changed?  Will you take you five official visits or ...
I will make a decision when I feel comfortable.  I just want to make the right choice, not too early in order to make the right choice for me and my family.
Do players have something to do with the decision?  Do you  look at the rosters and at who is coming in,  is there and or who is leaving?
Of course, I want to play with really good players, so I look at that.  I want to win a national championship wherever I go, sot that's what that is.
Shabazz, suppose a person came along and they had never seen you play.  How would you describe your game in your own words?
I  play inside and out.  I shoot the mid range jumper, go to the hole, slash and I'll try to dunk on you.  I'm always by the rim, get a lot of offensive and defensive rebounds and try to be a match up issue for my opponent.
When did you first learn that you had mad basketball skills and when did you know basketball would become a huge part of your life?
Probably in my ninth grad year in the summer.  I just really started to improve my game and I was growing a lot getting stronger, so that's when I knew.
I see where ESPN currently has you ranked number one at your position and five overall.  Is that something you pay attention to and if so are you the kind of guy that says at the end of it all I want to top those lists?
Absolutely.  They always have those big guys ahead of the guards.  But when it comes time to go to the NBA, some of those big guys are always a bust, but those guards always end up as guys playing years in the league and that gives me motivation and I'll work to be number one.
Of the schools you've visited thus far, which one has been the most impressive?
Um. [pause] Probably Duke and the atmosphere there which made you really want to be in the game and playing.
Have you seen game with UCLA, North Carolina and such?
I've been to UNC, but haven't been to Texas yet.  I really like UNC's arena too, it's a very big atmosphere.  When I went ot late night with Roy, it was a really good experience and I enjoyed myself a lot.
Describe yourself as a person?
Very talkative guy, funny, I can take things seriously and then mess around, left handed, love to play basketball, play X-Box, and hang out with friends.
What is in your game console right now?
Call of Duty, that's pretty much all I play.  I sometimes play on line with other prospects and players.
That would be pretty cool to watch.  Thanks for your time Shabazz, and best of luck in the playoffs.
Okay, no problem.  Thank you.
We approached Shabazz as Sports Nation and not Blue Devil Nation to get untainted answers.  I now feel it is clear that this one could go on for a good while, but he did say he'd pull the trigger if he got that feel.  It is also clear that there are four players in this, being Duke, Kentucky, North Carolina and UCLA.  Shabazz seems to like large arenas and he has yet to visit Kentucky for a game but if he does, they are impressive up that way.  Discuss this interview on the BDN Premium message board.  If you are a premium member and not yet on the message board, contact us under FAQ on the main page. [/private]