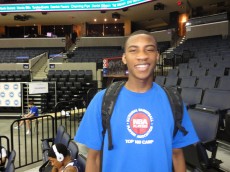 The Duke Blue Devils fan base is excited about Rasheed Sulaimon coming to Duke this coming season and he is excited as well.  BDN Premium caught up to Sulaimon yesterday, hot off his 18 point performance where he keyed the West squad to a win in the famed McDonald's All American game.  Sulaimon, of course, won the three point shooting contest as well.  We discussed a myriad of subjects which included his play and the staff and fans reaction to his play and what he will work on now that he is back home.  Sulaimon touches on recruiting where Duke is in hot pursuit of Amile Jefferson, Shabazz Muhammad and Tony Parker and his relationship with them.  He also talks of getting a challenge from Duke assistant coach Chris Collins after he won the three point shooting contest and what Coach K has him working on in another in depth interview from BDN.
Congratulations on winning the three point shot contest at the McDonald's All American Game, that was awesome. What are your thought and what was going through your mind as you were competing?
I was nervous to begin with but once the buzzer rang I just started to focus and found a rhythm and kept shooting and they were just going in. After the first round I knew there was a really good chance I could win it and my confidence was high and I felt like I was the best shooter going into the competition.
Your family had to be really happy for you. What was their reaction?
My parents were very excited that I won and that my hard work payed off.
Have you been able to talk with any of the Duke coaches since that happened? Did anybody like text you and say congratulations or that kind of thing?
Yes, yes. I talked with all the coaches and they [private]  just told me congratulations and Coach Collins sent me a text message talking a little trash because he was the first Duke guy to win the contest. So, he congratulated me, but he said I still had a ways to go before I could reach him.
He does talk a little smack, I'll tell you he's still got a nice outside shot. The coaches will go at it with the managers and walk ons during the season. You'll see that they get out there and ball. But you represented Duke well and then there is the McDonald's game itself where you scored 18 points, knocked down four treys. What was it like to play against the best of the best?
You know, it was just a great day having the elite talent in the nation come there and compete and it was very special. And then there was Chicago and the arena itself where Michael Jordan use to play and such a big crowd. It was kind of nerve racking at first, but like I said after I started to get in the flow and everything like that, I just got back in the flow and played basketball.
It looks like you had all kinds of fun, participating in the Duke-UNC-NCSU smack down and all kinds of things. Which guys did you kind of hit it off with out there?
I hit it off with a lot of guys and I knew almost everybody that was there, But a couple of the guys I kind of really hit it off with was me, Shabazz (Muhammad) and Amile Jefferson, we were all pretty cool. And Kyle Anderson and Yogi Ferrell as well, so I had a good relationship with a lot of guys on the team just to name a few.
I have to ask this, Duke is hotly pursuing Amile Jefferson and Shabazz Muhammad. I'm assuming per our past conversations that you were in their ear a little bit.
Oh yes, of course. I was in their ear constantly in that we (Duke) are recruiting both of them. I'm trying to get them to come to Durham with me next year and I think we have a good chance if we keep recruiting them hard and stay on their tails, then I think we've got a good chance to get both.
It looks like it will come down to the last minute as there is a lot of transition going on, Duke is worried about losing Mason Plumlee, so a lot is going on. What about Tony Parker? Was there anything going on there?
Oh yeah. I talked with Tony a little bit and I told him or got in his ear a little bit but I think he is still reviewing the schools that is left. I'm not too sure where he's at with his decision making, but he still says Duke is in it.
That's interesting. So what do you do now that you are back home after being in all the hullabaloo of the All American event? Where does Rasheed go from here?
Back to the gym. I have to go get better, get stronger and get faster and work on parts of my game and just get ready for the Nike Hoops Summit and the Jordan-Brand Classic and then getting ready for Durham.
You'll be in around July 1st or so?
Yes sir.
Obviously what you have been working on has been good for you are putting the ball on the floor better, your perimeter game is tight. Have the coaches told you to work on any particular thing? Your game is really coming together.
Thank you (with humbled emphasis)
Oh, you're welcome. Everybody that saw the game and objective media thought you were one of the three best players in the game and there is a lot of talk of you. So, it has to feel good to get the compliments.
Yes sir. Some of the things the coaches want me to work on are key in on just staying in the gym everyday and get better polishing my skill set and everything like that. A couple of things they really focused on though, was for me to continue to get stronger each and every day and continue to tighten my ball handling in that I will need it next year. I have a good handle now but it wouldn't hurt to make it better and become quicker and faster.
Have they talked to you at all about possibly testing you at the PG position?
Yes, they have. We've talked about possibilities of me playing the PG in certain situations and the off guard. It looks like I will be used in a combo of both this coming season.
You move your feet really well. Therefore you have the chance to become a really good on ball defender, the kind they really didn't have at Duke last year. Is this something they have spoken to you about as well?
Oh yeah. Definitely, definably. I have always taken pride in my defense and want to take the best perimeter player on that end but they challenged me with the expectation of me coming in and playing great defense and I'm ready for that challenge. I'm going to step up and do whatever I can and play as hard as I can to meet Coach K's challenges.
Do you still converse back and forth with some of the players on the team?
Oh yeah. I keep in touch with a lot of them, like Quinn Cook, Tyler Thornton. Josh Hairston and Alex Murphy. I keep in touch with a number of players on the team and I have good chemistry with them.
That's great! You've been blessed.
Yes sir. I can't complain about anything, I've been blessed my whole life.
That's great. Everything is coming full circle for you. Coach K saw something in you and offered early on and you have continued to improve and climb the rankings since that time. The Duke fan base is very excited about you coming to Durham and our message boards are buzzing and blowing up with how giddy fans are.
Thank you so much, I appreciate the call and interview.
Best of luck the rest of the summer and you're welcome, Rasheed.
Have a good one! [/private]