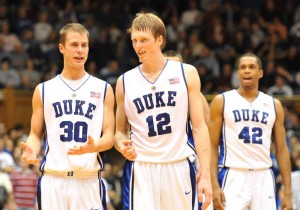 INDIANAPOLIS - The Duke Blue Devils will take on the Butler Bulldogs in a game that tips at 9:21 eastern and the winner will be the 2010 National Champion.
Butler was ranked 11th in the pre season and they are  riding a 25 game winning streak.   They have not only defeated three top ten teams in  Syracuse, Kansas State and Michigan State, but they held them all to less than 60 points.  In short, these Bull Dogs live up to their name for they are one tough bunch of kids.
Both Duke and Butler covet defense and that alone should make for a grinding game while they feel each other out.  Butler has held 12 of their last 13 opponents under 60, while Duke is allowing just 61 points per game.
Butler had 12 steals vs Michigan State and while they do not play the passing lanes as you might think, they make it difficult when the ball goes in the baseline with hands reaching.  Butler has 118 wins in four seasons 33-4 and their head coach Brad Stevens is a hot commodity.
Butler prefers to keep a game in the sixties and that strategy has been effective for them.  They are not particularly tall inside, so look for Duke to try to work it inside - out to create shots.
The Bulldogs best player is Gordon Hayward [6-9 soph, 15.6 ppg, 8.3 rpg]  who has led his team in scoring 17 times this season17 times this season.  He is a versatile player cut out in the mold of inside-out Duke players past.
Matt Howard [6-8 soph, 11.6 ppg, 5.2 rpg]  has scored in double figure 47 times in his career and he anchors the front court.  Howard butted heads late in the Michigan State win but he is expected to go.
Another key player for the Bulldogs is Shelvin Mack [6-3 soph, 14.2 ppg, 3.7 rpg].  Mack is the motor of this team and Duke will need to keep him in their sights all night long.
Ronald Nored [6-0 soph, 6.0 ppg] starts as does Willie Veasley [6-3, senior, 10.0 ppg, 4.3 rpg].  Both of these guys are good team players and both can drop it in if left open.  Veasley is the veteran leader of a young team whose best players are sophomores.
Make no mistake, all of Indianapolis is behind Butler who as you know now is just six miles down the road from Lucas Oil Arena.  Many are making them out to be Cinderella, but their program has been consistent.
As for mutual opponents, Butler lost to Georgetown 72-65 in one of their 4 losses.  The Hoyas handed Duke their second  worst loss of the season in an 89-77 win. Butler lost to Clemson by 1 point in November while Duke holds two double figure wins over the Tigers.
Butler holds wins over Northwestern, UCLA, Xavier, UTEP, Syracuse, Kansas State and Michigan State and that alone should tell you they can indeed keep the title in Indianpolis.
The Blue Devils are led by their big three of Jon Scheyer, Nolan Smith and Kyle Singler.  It will be hard to deny all three of these guys and if all are on their game as was the case in the win over West Virginia they should find victory lane.
But it is Duke's senior leadership which has been at the core of Duke's success as well.  The aforementioned Scheyer, hopes to remain hot from the field, while Lance Thomas will do all the dirty work which does not show up in the box score.
The emergence of Brian Zoubek is who many point to as the real reason Duke is in the title game has been a rebounding machine down the stretch and he will cause some match up problems inside for Butler.  If Zoubs controls the glass, Duke will benefit greatly.
It's only appropriate that these two teams are facing each other for they have earned the right to be here.  And while Brad Stevens coaching job has been fabulous for Butler this season, Coach Mike Krzyzewski, known as Coach K, who in my opinion has had his best season ever at the helm.
Keys to a Duke win 1) Shoot well from the field, 2) Push it inside in an effort to create some foul trouble which will get them to the line, 3) Play within your role - Duke was unselfish and patient on the offensive end against West Virginia and it will be important for this to continue, 4)  Rotate the bigs to keep the pressure on and this should wear Butler down.  Duke has been doing this all season, 5) Run when the opportunity is there.  Quick or easy baskets allows Duke to take Butler out of their comfort zone and if they are forced to play from behind, that works in Duke's favor.  In short, get out to a good start.
The fact that Duke has been here before should help, but I expect a game Butler team to give Duke all they want.  In the end, I see Duke winning their 4th national title under Krzyzewski. Duke's core is seniors while Butler's best players are sophomores and this is what keeps jumping out for me.
The pick here is Duke 74 Butler 61.