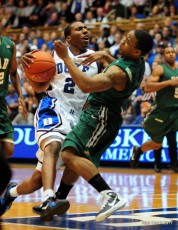 DURHAM - The nation's top ranked team, the Duke Blue Devils, remained undefeated, defeating Alabama Birmingham 85-64 on a night which featured Nolan Smith's career high scoring effort.  Smith dropped 33 points on a variety of moves and continues torrid play of late.
Smith's effort overshadowed fellow senior Kyle Singler who went over the 2000 point mark for his career at Duke.  Singler finished the game with 15 points to go with his 7 rebounds.  Smith added a team high 5 assists and, like his senior teammate, grabbed 7 rebounds.
"He's playing great right now.  He's just unstoppable, really.  He has high energy and is getting to the cup, he's really tough to guard," said Kyle Singler on Smith's effort.
Alabama-Birmingham scored the first three points of the game and then Duke went on a 16-0 run and they never looked back.  The Duke defense stifled the visitors early and, while they warmed up with their shooting as the game went along, Duke never came close to trailing again.
"I thought we were ready to play.  We go up 26-3, whatever it was and you knew you couldn't keep that up.  I was proud of my team," said Krzyzewski.
Duke also got a great game out of Mason Plumlee, who Krzyzewski said had his best game of the season.  Plumlee finished the game with 14 points and a team high 9 rebounds.
"That was Mason's best game at Duke.  He was talking, and he played with presence, getting 14 points, 9 rebounds and 4 blocks," said Krzyzewski on his sophomore centers 'play.
Overall, Duke looked more than ready to play tonight and this game served as a good tune-up before Maryland comes in this Sunday.  And remember, the Terp's were the last team to defeat the Blue Devils.
With the win, the Blue Devils move to to 14-0 on the season while UAB drops to 10-3.  Duke next faces Maryland at 8:00 on Sunday.
BDN Sidebar - Sophomore Andre Dawkins earned his third career start. It is the third time he has started in the last six games.
Senior Kyle Singler moved into a tie for ninth on Duke's career starts list with Danny Ferry. Singler drew his 124th career start.
Senior guard Nolan Smith scored eight of Duke's first 11 points in the game with a layup and two three-point field goals.
After UAB opened the game with a three-point field goal, Duke has gone on a 16-0 run over the next 4:02 minutes. It was the Blue Devils' longest run of the season. The previous long was 14 points against Elon.
Seniors Singler and Smith each reached double figures in scoring in the first eight minutes of the contest. The two captains are tied for the team lead with 13 games of 10 or more points this season.
Duke made five of its first six three-point field goal attempts. Singler and Smith each had two treys while Dawkins