Josh Hairston is always fun to talk to and this interview was no different.  His answers are always upbeat and you can count on a professional demeanor beyond his years.  Hairston score 25 points to go with 12 rebounds during his teams second loss of the season during Slamfest VIII which was held in Richmond,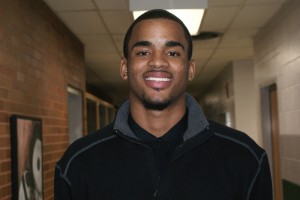 Virginia this past Saturday.  Courtland played to home standing Benedictiine High School and as always, there were hecklers galore trying to get under the skin of the future Blue Devil.  Members are sure to enjoy the following interview which is the first of many Blue Devil Nation Premium will run this week.  The best time to join is right now to get some of the best coverage you can find on recruiting and more.
So are you happy to be at this tournament here in Richmond?  Your family has come down, you've got your man Dre (Andre Dawkins) here, the Thorntons have come down to see you ...
I am!  I'm very excited.  I love playing in front of crowds.  We've got to come out strong and play the best basketball we can play.  Hopefully if we do that, we'll come out of here with a win.
Is this a game where you almost feel like you have to put the team on your back?  That's a pretty good team you are going up against.
Yes it is.  I'm going to do whatever my team needs for me to do.  If that's putting them on my back and carrying the load, I'll do that.  Big time players step up in big time moments, so I am really looking forward to it.
You have Nate James sitting in the crowd over there.  What is it like to have one of your future coahes in the house?  Is it always cool to see them?
It's [private] always cool.  It shows that he's very supportive.  He's been to one of my games earlier this season.  So having him here actually relaxes me and calms me down.  I know that after the game positive or negative, he's going to let me know how he feels and I can just work from there.
Tell me a little bit about your season so far.  Your team has lost one game I think?
15-1, our fist loss came last Saturday to a very good team out of Virginia Beach.  It was really the first time a lot of our guys have played in a big time environment.  So there was a lot of noise and nervousness going around.  We all learned from that and had some good practices and had a great game last night.
You played last night?
We played and ended up winning by thirty or forty points.
Do you know what your numbers were?
I know I had 20 points and 12 rebounds.
What are you averaging this season?
24 points and 11 rebounds
Your parents are here, so that's obviously cool.  They're big supporters, right?
Right!  I don' t think there is a place they haven't been even this summer.  They've made a lot of sacrifices, even my little sister.  So, I'm always appreciative there.
In the earlier game, Andre flushed one down (dunk) and kinda gave Nate the stare down and expression of did you see that. (snickering)  Did he tell you about that?
He did.  (laughing)  We're playing for points right now.  He's in the lead for now.  He said if I don't do it, I'm going to have to owe him something.  I'm going to try and do what I can.
Are you brazen enough to do that -- scowl at Nate for show?
I don't know if I'm going to do it to Coach Nate, but I'm going to do it to Andre if I see him. (smiling)
When is the last time you talked to the coaches?
I actually called Wojo this morning but didn't talk to him.  I know that my Mother talked to him yesterday, cause we're going down to the Virginia game tomorrow.  I talked to Coach K , I think a couple of weeks ago.  I try to stay in contact with them as much as I can.
Anybody else going down that you know of?
Uh, no ... Tyler (Thornton) has practice tomorrow and Andre still doesn;t know if he's going or not.
Are there any other games on the calendar you have circled?  I know the Carolina game is on a Wednesday night which is a school night at 9:00 ...
I think we are going to go to that one.  My parents said that if my grades turned out good we could go down there.  So, I think we are going to go down there if everything goes the ways it's suppose to go.
Now (jokingly) have you got your Dad in the right place?  I think he may be about 89.7% Duke now, but I know he's got a little heart left for UNC (grew up pulling for them).
Yes he does, but he's at the point now to where if we find anything Duke that fits him, he wears it, so ...  At the Wake Forest game the other night he was heartbroken.  Me and him were looking at the TV and could not believe it ... (shaking his head)
Duke came back and had a chance to steal that one ...
Yeah.  I think he is 98% now. (smiling)
98%? (smiling)  Only 2 to go ...  now your Mom how does she feel about that?
Aw man!  She loves it.  If she is not wearing something that says Courtland on it, she always has on Duke stuff.  I think she eats it up the most out of anybody.  Anything Duke she finds ... I think she bought me four Duke pens to write with in school, I've got sticker for my car and everything.
The last time we talked you said that people at school were like - whoa Duke, he's going to Duke.  Is it still like that?
It is.  My classmates know about it and they've kind of calmed down a bit, but when we go to other schools, a lot of people are coming to see me and see if I'm worth it.  The hecklers have gotten worse at the games, but I tell myself not to pay any attention to it.  I just try to let my game speak for itself.  They may be talking the first half, but they'll be quiet by the second.
Your Dad's a pretty brawny and tough looking guy ... does he ever get a little bit upset?
Yeah he is.  We were playing down in Orange County last month and there was a guy down there ... we were beating the team by forty some points and he was still yakking.  That's the closest my Dad ever wanted to say something, but he didn't.  That guy has a right to feel as he does in his mind.  My Dad said he payed his 5.00 to come see us play and he can say whatever he wants.  So, I felt the same way.  I don't let that stuff get to me.  I use to!  I use to jaw back a little at people in the stands but it's a maturity thing and I don't really pay attention to it anymore.
So, what else is going on in your life?  (smiling) Do you have a girlfriend yet?
(laughing)  Naw, I'm still playing it cool.  I think I'm going to wait until I get down to Duke.
There you go, you'll find plenty of prospects in the Triangle.  So is there anything else going on that I may have missed?
I was announced to the Adidas Nation team.  So, that's the only other big thing going on.
And when is that?
I'm not sure.  My Mother and the coach have been in close contact and he said he'd let us know when we started practicing and stuff.  Other than that, out season has been going great.  We started 14-0 which was a school record.  I think I told you earlier, we've been together for three years and it's a maturity thing.  We were young and we still made a run, but now that we are older, I think this is going to be our year.
I appreciate your time and good luck tonight and the rest of the season.
Thanks a lot. [/private]