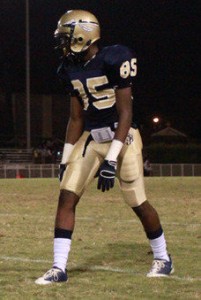 With Duke's prolific passing offense, it's no surprise that the Blue Devils have had success recruiting and developing talented wide receivers in Durham, most notably All-ACC performers Eron Riley, Donovan Varner, and Conner Vernon. After adding a talented California WR in the class of 2011 in Blair Holliday, the Blue Devils continue to recruit West Coast receivers in 2012. Duke is the first school to offer Justin Johnson, a 6'1" 190 pound receiver from St. John Bosco in Bellflower, CA. As a junior, Johnson formed one of the country's top receiving tandems with Bryce Treggs, finishing with 27 catches for 365 yards. Highlights from his junior season can be viewed here.
BDN: Can you start off by describing your strengths for fans who haven't had a chance to see you play?
As a receiver, my strengths are, I'm kind of a power runner, I'm not as quick as some of the smaller receivers because I'm like 190, and I get good releases when someone's in my face. I run good routes, my catching ability is good, and I'm an excellent blocker, all of the things a receiver needs to play in a football game.
BDN: What are some of the things you have been working on this offseason?
This offseason I'm working on getting off on bigger corners, because I know when I go to college, the corners are going to be way bigger than the corners that are in high school right now. I'm working on getting out of my breaks a little better than I already do. And I'm just working on breaking the cushion on corners, so I run track and am getting faster at doing that.
BDN: What are your goals for yourself and your team for your senior season?
We plan on winning it all, going to state. I think it's the perfect year to do because we have all the talent and the discipline we need to do it. We didn't do it last year, last year was a shaky season and this year should be better than last year. I'm just trying to better myself so I can do better than we did last season.
BDN: As you look at your college decision, what are the most important factors you are looking for in a school?
I'm just looking for academics first, the sports will come, because when I graduate, even if I don't make it to the NFL like I plan to, I can always have my degree to fall back on, and graduating from a place like Duke, all the doors that can be opened for me with a degree from Duke.
BDN: You stressed the importance of academics and a degree; is there a specific field that you're interested in studying?
Right now, I'm thinking about aerospace engineering or computer science, but I've looked into majors, those are the two that I'm interested in, it might change, it might not change. I wanted to be business, but some schools don't offer business as an undergraduate major, so I would have to do that postgraduate.
BDN: You mentioned you have an offer from Duke, but what are the other schools that you've been in contact with and have a good relationship with?
I'm developing a relationship with Northwestern, with Cal, with Stanford, San Diego State is coming, and Washington, I'm going to their spring game next week.
BDN: Ok, so you'll be visiting Washington next week; have you had a chance to make any other visits or do you have any other visits planned?
I went to Junior Day at Stanford back in February, I believe. And that's about it. I'm going to visit Duke the first weekend of June.
BDN: Are there any coaches in particular that you have a good relationship with at this point in the recruiting process?
As of right now, the only coach that I'm really close with is Coach [Matt] Lubick from Duke, and Coach Jerry Brown from Northwestern. Those are the only coaches that have had a lot of contact with me.
BDN: Do you have an idea for when you would like to make your final decision or how you would like to narrow your list down?
I would like to weigh all my options at the end of the summer and then probably make my decision before the season or midway through the season. If it's a real hard decision, then I'll probably wait until after the season.
BDN: Is there anything else that you think is important for college football fans to know about you?
As a player, when I go to college, I like to bring a bit of excitement to the team and I have a winning aspect about myself, I don't like to lose, so I will do anything in my power when I do get to college to make the team win and put us on top of the map as far as rankings or however it goes. I just want to win.
BDN: Thanks a lot, Justin, and best of luck to you.
Thank you, Patrick, for talking to me.