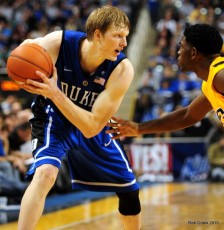 There are a million and one cliches I could use when describing Duke's 93-78 loss to St. John's and in this case many of them fit.  The wheels came off is one that comes to mind as is they weren't ready to play.  Then again, we could go with they were outplayed as well and there are plenty more fits.  The bottom line though is that sometimes it takes multiple explanations to explain a loss and this is one of them.
Duke travelled to New York City where they are accustomed to performing well enough to win in front of a strong local alumni base.  These games were scheduled specifically for the purpose of a guaranteed games in New York and sometimes that can backfire on you.  Not to take away anything from a stellar St. John's performance, but it is not easy getting a sudden 1:00 Sunday afternoon start, especially on the road.  And the one thing which is obvious is Duke was certainly not ready to match the home teams intensity and or they were not ready to play.
It's not often that a team gets in the Blue Devils collective grills and knocks them back, but that's what the Red Storm did early on.   St. John's put the Blue Devils on Duke their heals as they played their way into a deep 46-25 half time deficit.  Duke could not stop the penetrations, they could not recover on the baseline on defense and they couldn't hit a three point shot, their bread and butter.
While on the surface the loss may seem alarming to some, it is not unusual for teams to play a bad game.  Duke got throttled on the road at Georgetown last season, making the game respectable at the end.  The Red Storm's victory was similar in many ways but will Duke get the same result as they did last season?  That of course remains to be seen.
You'll see many media types start to disregard Duke again, stating they have weaknesses.  They do have weaknesses but so do other teams and this one loss exposes some areas indeed but it is far from over for the men in blue.  Last season, Duke went on a run after the loss to the Hoyas and this seasons group can do the same, save one element.  Experience.
St. John's is a senior laden team of Bronx like tough guys and they exploited the youth in the Blue Devils lineup past Kyle Singler and Nolan Smith.  In that sense, it's fair to question whether Duke can make a title run in that last years team featured three seniors and the aforementioned Singler and Smith.
But can you discount Duke Coach Mike Kryzyzewski's ability to turn a loss like this into a positive?  While it will not be as easy due to a lack of experience this season, there are still no teams which stand heads and tails above others in the Top 10.
Duke is circled on the schedule of every team they play and when they do not match their oppositions intensity, they will get upset.  This loss will be the talk of the town for a good two weeks but by seasons end I'm betting nobody really remembers it.
No matter how you see this loss, it's evident that Duke is now facing another test.  Maryland will be just as hungry on Wednesday night and that game is far more important than the last one for it is an ACC game.  And all eyes will be on Duke to see if they are imploding as a team.  Already many would have you think it'll happen.
Tradition says Duke fans shouldn't worry too much about a single loss, but it's more than fair to be worried about how they'll bounce back against a Maryland team and it's fans who revile them.  And those Terrapins will be just as hungry as was today's opponent and like many teams left on the schedule, they're  a team playing for their NCAA Tournament life.
Notes from BDN's Andrew Slater in NYC - -Coach K deemphasized the importance of the game vis-a-vis ACC vs BE. He felt that this was simply about SJU and Duke. He felt SJU played beautifully today, that they passed the ball very well, and that their two best players, Hardy and Brownlee, played like their best players today. He said he didn't want to take away from St. John's win, but felt that his program didn't compete-until it was too late. He talked about his players' faces being blank and not being talkative. 
-He felt that his team did not compete today until the middle of the second half. He was disappointed in the collective effort. He felt, for whatever reason, the team simply didn't play as hard as it has throughout the season.
-Coach K talked about how St. John's was able to get into the lane against every type of defense (zone, press, man) that they threw at them. He talked about the matchup problem that Brownlee caused as a guy who plays the 4 or 5 for SJU, when he's a 3.
-When asked how he'd compare it to the Georgetown loss last year, he said these type of losses occur every year.
-Coach K felt that they were more athletic than Duke and tried to exploit that today. He mentioned that he thought Coach Lavin was a good coach and did a good job at UCLA, a very difficult place to coach.
-Coach K said that Kyrie will take off his cast at the end of the week. He'll then have an X-ray and Cat Scan.