The New Jersey Roadrunners coach, Sandy Pyonin has coached some terrific players over the years and Duke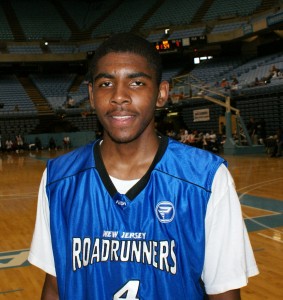 prospect Kyrie Irving is the latest.  Pyonin, one of the best AAU coaches in America, worked with former Duke players Bobby Hurley and Jason Williams.
Irving is a 6-2 guard prospect who plays his high school basketball for traditional power St. Patrick's in New Jersey.  The young star has been climbing every recruiting guru's list for the past several months.  Irving clearly established himself as a top tier player with his body of work during the Tournament of Champions this past weekend.
Irving put on a show in Cameron Indoor Stadium on Saturday, where he scored 40 points, going 12 of 17 from the field while hitting 4 of 4 from the three point stripe.  He was coming off a 23 point, 7 assist performance the night before at the Dean Dome.
Most of the recruiting types missed his Cameron performance that I was fortunate enough to catch.  By the time I traveled back to Chapel Hill during this marathon AAU event, the buzz was apparent.  Everybody was talking about Irving and many bemoaning the fact they missed his best game.
Irving has become one of the Blue Devils' most important recruiting targets, but they will have some company for his services along the way. One fan held up a sign encouraging Irving to come to Duke, while another yelled "Kyrie Irving come to Duke."
BDN talked to Irving a couple of times this weekend, but it was the chat in Cameron where he opened up about the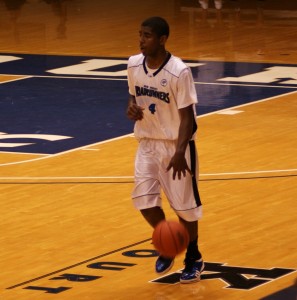 recruiting process  even more.  During that interview, I couldn't help but notice the retired jerseys of #11 Bobby Hurley and #22 Jason Williams in the backdrop, wondering if his would one day hang there, too.
BDN Premium members will hear or read both interviews and comments from his coach this week.  BDNP has several interviews, pictures, scouting reports and tidbits from the weekend coming.
Scouting Report on Kyrie Irving - Irving has that rare inside and out game already established going into his senior season.  He has a sweet stroke from the three point stripe and hits the shot with consistency.  He rarely takes bad shots and almost always has his feet planted.  When the ball leaves his fingers he expects it to go in and one cannot help but notice how smooth he looks when releasing the ball.  It almost looks effortless for Iriving at times.  He has been called a tweener guard but, make no mistake, he can run the point with ease.  He gives that role up a lot on a team with little inside depth, but he threads the needle when going past the defense or into the lane.  His quickness allows him to get to the basket most any time he wants to.  He knows he is the man, so he baits the defense into double teams which frees up his teammates where he hits them on cuts.  He is an adept passer, especially when on a break.  He plays good on ball defense and stripped the ball four times in one game, scoring on the other end three of those times.  There were games where he got off balance from a bump or a slip on the slick floor, but he still made the play, recovering quickly.  Irving is not afraid to hit the floor and rises and flushes down dunks with ease.  Irving loves to find seams in the defense where he will take the ball to the rack.  Irvng is also an extension of the coach on the floor where he tells teammates how to space properly.  There are times when he looks unassuming, but he is always in the play and doesn't take a lot of breaks from being in the play at both ends of the court.