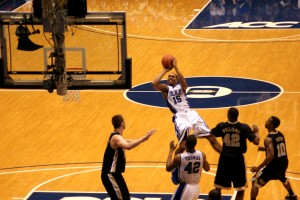 Gerald Henderson talks about the bench play in the win over Texas, Villanova, his Dad's playing days with the Boston Celtics, being a leader and more.  Enjoy -
Your thoughts on Villanova ...
It should be a good game.  They're a really hot team right now and played a really good game against UCLA where they pretty much dominated the whole game.  It should be a good match-up for us.
You grew up in Philadelphia ...
I grew up in Villanova.  Back home, I live about fifteen or twenty minutes from there.  My sister went there, I had a cousin that went there.  You know, they recruited me, so I'm pretty familiar with all their coaches and most of their players.
So, they were your second choice?
It came down to Duke and Villanova.  I took an official here and there, those were my only two.  I think my host was Kyle Lowrey.
Did you grow up pulling for them out of the Big Five?
I guess it was 'Nova because they were the closest to me.  My Dad took me to their games when I was little.
Speaking of your Dad, he has some great memories in Boston where he played with the Celtics.  I guess it'll be kind of a homecoming for him?
He's got a lot of friends back there.  A lot of people that are close to me.  He always talks about that those were his best years as a pro.  Not just on the basketball court, but in terms of just living and him having a good time as a basketball player.  Those were the best times.
Do you think with all that's going on that there will be a lot of distractions?
I think the way we travel and our managers ... (laughed), I don't think there will be many distractions.
Does your Dad stay in touch with former teammates?
Nobody that's on the team now, but different people like Bill Russell he still talks to.  I can't really think of any of the guys, but he still keeps in touch.
Does he ever talk about that big steal against the Lakers in the NBA Finals?
Yeah, he doesn't talk about it as much.  Every now and then somebody will come up to me and say they saw it on ESPN Classic.  It's probably one of the best moments of his career.  (Henderson made a key steal vs. the Lakers in the NBA Finals, which helped his team win the game and the series.)
Earlier in the season, did you think you would be where you are now (Sweet 16)?
When we lost to Boston College, our season could have gone a lot of different ways.  I wasn't even sure at that time we would make the tournament.  Nothing is guaranteed.  We could have gone backwards from there, but we just were not going to let that happen.  Me, John and Kyle being the leaders kind of took it on our shoulders not to let that happen.
Your thoughts on Coach K -
I've said all season that his passion is something I've never seen in anybody before.  I think winning that Gold Medal has given him even more passion just wanting to win another championship and do something nobody else has ever done.  He's our leader and we get strength from that.
On his relationship with Wayne Ellington and his family -
His parents are really close to me, especially his Dad.  He's been to all our high school games and him and my Dad always sit next to each other yelling at us.  That's something I will never forget.  They actually moved again and  I have been to their house.  It's good to have a close family like that, when mine just comes down for the games ... it's good to have them here in case I need anything.
Which Dad was the worst critic?
That depends on who was playing good.
On hanging out on occasion with the Ellingtons -
His Dad does more of the cooking than his Mom.  Big Wayne will cook up fried chicken, rice, string beans, everything.  He will cook up everything.  It's good to have a place to get a home cooked meal away from home.
As a leader, do you feel any added pressure going into such a big game?
I don't really look at it as pressure.  There is a lot of responsibility on Jon, Kyle and, well, everybody.  I just look at it as something I have got to do.  If we want to accomplish some of the things we set forth at the beginning of the year, I have to play well.  Jon has to play well.  Kyle has to play well.  Everybody has to play well!  That's how it is.  I just look at it like you go after it and put everything into it and see what happens and see what you are made of.
With all the foul trouble against Texas, did you get nervous with reserves playing key roles?
That gives us confidence and should give that confidence as well.  Elliot is making some really good plays.  Rebounding and going after that ball (Scheyer pass).  He was just really being a presence in there.  And Dave made that play at the foul line.  That should give them all confidence and show them that we have confidence in them in those situations.
Do you think playing in close games like in the last couple of weeks has helped this team grow?
I think it's good for us.  As a team we are still evolving.  It's funny that every game we play could be your last one, but yet we can still get better.  Teams will play us differently and we have to adjust what we are doing and get better at those things.