[private]The average senior in high school usually finishes out the year by going to the beach and such with their classmates once they graduate.  A few others have a unique focus and take education very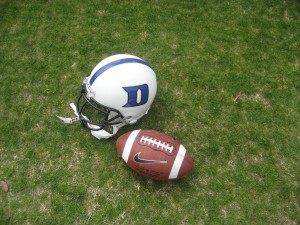 seriously and they have enough credits to graduate early.   You don't see this as often with kids who have signed to play major college football, but Duke welcomes four new faces to campus for the spring semester.
Four members of Coach David Cutcliffes 2009 recruiting class - Kevin Rojas, Ryan Hall, Sydney Sarmiento and Zach Greene are already on campus and adjusting to the environment early on.
Ryan Hall is a 6-3, 230 pound tight end who played his high school football at Olympic in Orlando, Florida.  Hall is considered one of the top players at his position, one which was depth shy last season for the Blue Devils.
Hall is already rooming with another young man in Kevin Rojas, a 6-2 outside linebacker who played his high school ball just down the road from Durham at Wakefield.  Rojas is just one of many in state prospects Duke has had success with under the new staff and he will began the next level of his education just days ago.
Another outstanding in state prospect from neighboring Raleigh will join the group.  That being Zach Greene a kid with the kind of speed that  Duke is currently recruiting.  The 5-10, 170 pound secondary prospect carried a 3.8 GPA which allowed him to enroll and participate in the upcoming spring practices.
The fourth early entry is definitely the largest.  Sydney Sarmiento is a 6-4, 250 pound prospect from West Florence, South Carolina.  Like Greene, he come with a 3.8 GPA in hand and will now start to adjust to being a college student.
All four of the prospects will be working as a group with Duke Strength and Conditioning Coach Noel Durfey.  The incoming 2009 prospects will be Cutcliffe and companies first true recruiting class.[/private]