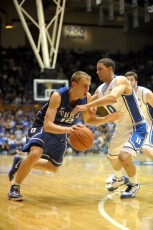 With Amile Jefferson's announcement he would be attending Duke University, Duke's recruiting efforts for the 2012-13 season came to a successful end. Jefferson, a power forward, joins combo guard Rasheed Sulaimon in a class that also includes forward Alex Murphy and center Marshall Plumlee, two players who redshirted last season.
While ESPN ranks Duke's 2012 class at number 11, that ranking only factors in Sulaimon and Jefferson. Including redshirts Murphy and Plumlee, as part of the incoming class, results in a very strong group, which certainly deserves a Top 5 ranking. Duke has been unfairly criticized recently, by certain elements across the recruiting world, as having been left behind. Results certainly outweigh the rhetoric.
Balance is a nice characteristic of this class as it contains a combo guard (1/2), combo forward (3/4), power forward (4) and center (5). Another characteristic is talent. In the final RSCI rankings for 2011, Alex Murphy was ranked 49 with Marshall Plumlee checking in at 61. For 2012, Rasheed Sulaimon is 17 while Amile Jefferson is 20. RSCI has not finalized their 2012 rankings.
Let's take a look at each incoming player.
Alex Murphy (6'8" 220): Last summer Duke fan site message boards were buzzing about the possibility of Murphy breaking into the starting line-up. Comparisons to Kyle Singler were common place. After suffering a concussion in practice, Murphy fell behind in his preseason development and decided to redshirt. Considering he left high school a year early, the decision passed the common sense test.
The exciting element of the story is Murphy was talented enough to compete for a spot in the starting line-up 12 months ago. With a full year of practice and participation in the strength and conditioning program under his belt, Murphy is the leading candidate to be the Blue Devils starting small forward in 2012-13.
In regard to the redshirt season, associate head coach Chris Collins recently commented, "The biggest gains that we saw with Alex throughout this season were with his confidence and his strength."
My expectation is Murphy will be in the starting line-up at small forward from day one. Additionally, when Coach Krzyzewski decides to go with a smaller line-up, Murphy is strong enough to slide into the power forward position.
Rasheed Sulaimon (6'4" 180): After winning the 3-point shooting competition at the McDonald's All American game, Sulaimon proceeded to score 18 points including going four for eight on 3-pointers to help the West beat the East 106-102. At the Jordan Brand Classic, Sulaimon made three of six 3-point shots and scored 13 points as the West beat the East 99-95.
As talented an outside shooter as Sulaimon is, two different skills are what excite me. First, Sulaimon demonstrated significant defensive ability during three All Star games. Additionally, he displayed an ability to run the point. Those two skill sets compel me to compare Sulaimon's potential to Nolan Smith.
My expectation is Sulaimon will come off the bench in the early season while competing to break into the starting line-up. Whether he eventually starts or spends the entire season as a reserve, he will play starters minutes as a freshman due to his talents on the defensive end of the court.
Amile Jefferson (6'8" 200): In the official press release announcing Jefferson's decision to attend Duke, Coach Mike Krzyzewski stated, "We are ecstatic about Amile joining us. He is going to be able to help us right away."
At the McDonald's All American game, Jefferson recorded eight points, three rebounds and two steals in 14 minutes of action. Moving past the statistics, and just watching the game, Jefferson demonstrated versatility and smoothness on the court. He did not dominate, in fact he did not even standout, but to the seasoned eye, he looked like he belonged.
My expectation is Jefferson will average low double digit minutes per game as a freshman, perhaps as many as 12 to 15 minutes. With his length and low post offensive skills, Amile will be a key contributor in relief of Ryan Kelly. Over the course of his career at Duke, Jefferson has the potential to develop into another in the long list of versatile forwards to succeed as a Blue Devil.
Marshall Plumlee (6'11" 225): The younger brother of Miles and Mason, and McDonald's All American is reputed to be more of a true low post player than either of his older brothers. Gaining muscle mass should be a major objective for Marshall over the summer and with an entire year already spent in a college level strength and conditioning program he should have plenty of success.
However, from a High School Hoops article I wrote in December 2010, after watching Christ School play Quality Education Academy, the following sentence stands out, "On offense, Plumlee operated mainly out of the high post and delivered a couple of nice passes for assists." Duke will need Plumlee to operate out of the low post, while Ryan Kelly mans the high post, so hopefully my observation of his tendencies as a high school senior were more a function of his team's offense and less a function of his comfort zone.
My expectation is Marshall will see consistent but limited minutes in relief of older brother Mason and to a lesser degree Ryan Kelly. His objective over the course of next season should be to gain invaluable game experience to facilitate his moving into a starting role as a sophomore. Marshall projects to be a four year player who will excel as a junior and senior.