[private]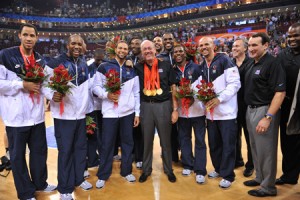 Four years after having their mantle of invincibility trashed with a bronze bust in Athens, the USA Redeem Team won back the gold medal with a 118-107 over Spain on Sunday. But not without having to work for it in the final game of the Olympic tournament.
Dwayne Wade score 27 points, Kobe Bryant 20 and LeBron James 14, yet the Americans were still in the fight of the Games when Rudy Fernandez hit his fifth 3-pointer to pull Spain to within 91-89 with 8:13 left in the game.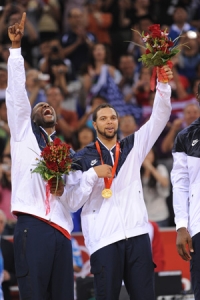 But Bryant hit a runner, Deron Williams dropped in a 3-pointer from the left corner and Dwight Howard took a feed from Bryant and slammed it home and the U.S. was able to keep enough of a cushion the rest of the way.
Spain, the reigning world champion, was led by Fernandez with 22 points and Pau Gasol with 21. Team USA finished with a perfect 8-0 record and wrapped up the final gold medal away in the 2008 Olympics.

Coach K – This was easy. All these guys committed to Jerry Colangelo three years ago and they said they want to be part of a team. And Jerry said we're going to have one collective ego but we wanted you to bring all your egos because that's how you get better. We have not had one second of problem as a coaching staff with our team. It's been the greatest experience of my life and the lives of the other coaches."
"It's exhilaration. If we didn't have the three years together, we wouldn't have won this game because the three years gave us character to beat a great team that had great character in Spain. It was one of the great games in international basketball history. To win a game like that is the best."
LeBron James -"On behalf of the players, first of all, we want to give respect where respect is due to the Spain team. They were unbelievable. Just like Coach said, we had a game plan and they countered our game plan by making some incredible plays. Every possession counted tonight for all 40 minutes … every possession counted. You couldn't take one possession off, one second off. If it wasn't for the determination and the will power we have in each other, we wouldn't have pulled through and got this win."
Wade and Bryant talk win and K
[/private]