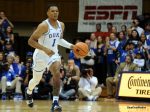 Welcome the second installment of "10 Random Thoughts on Duke Basketball," where we take time to reflect during the break in competition.  Give it a read.  It gets better and you go...
Duke is coming off a bad loss -- Look!  I am as big an optimist as anybody, but there is no sugar-coating the fact that Duke Basketball is coming off a bad loss.  The team was a 16 point favorite on the road and it was the all important ACC opener.  But what's done is done.
Good things can come from bad losses --  Nothing gets a good teams attention like an upset loss on the road.  Fans storm the court making an exit difficult and then the players are peppered with questions about what happened.  The young Duke players found out that they will get every teams best shot and that they are not as good as the hype which surrounded them.  Now, the team must look at the ACC standings where they are 0-1 and in last place until they can do something about it on December the 30th against Florida State.  If this does not motivate the team, then there is no hope.
Practice counts -- As I look around I see a lot of people complaining about what the current group of players need to do better.  Well, they are finally getting some time for practice, sort of.  The team will be taking exams this week and that makes for a stressful time.
What needs to happen in coming practices -- Get better on defense.  The team to date is very efficient on the offensive end but their defense, especially against the perimeter has been suspect at best.  One of the hardest tasks the staff has is to teach one and done or young players how to play defense.  But to win and win big, the team must buy into what they are about to learn.  In fact, I would bet that 75% of practices will concentrate on teaching the defensive aspects of the game.  Teams will continue to jack threes against Duke until they prove they can run players off the stripe.
A little perspective -- Before I go on, may I remind you that Duke has wins over Florida, Michigan State and Texas.  They have a single loss which everyone with the exception of Villanova, Arizona Sate and one or two other contenders do as well.  The team has a bevy of freshman playing key roles who have played together in 12 games and they will get better with the aforementioned practice time and another break to come after the Evansville game.  The teams talent alone will win games, but once they improve things will get even better.  Number four in the country in December is not a bad place to be.  And better to learn lessons now than later.
However -- The ACC is once again good this year and Duke will face a test almost every night out in league play.  A game with Florida State is looming and the Seminoles are ranked and undefeated.   Six league teams are currently ranked and Virginia Tech should be.  UNC is adjusting as is every other team in what will be another brutal league schedule.  There will be many wars ahead as the season progresses.
Evansville is good -- It is always fun to hear fans say, we'll take it out on our next opponent which in this case Evansville.  Well, a look at the standing shows a team that is currently 8-2 and likely to be 10-2 when entering Cameron on December 20th.  The students will be gone for this game and the ACC home opener with FSU, so the fans who have closest to Coach K Court will need to be loud and proud.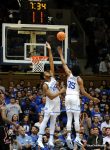 The mental part of the game  --  So many things can happen when you have a youthful team.  But the one thing that will no matter how talented the youth might be is there will be a learning curve.  As good as Marvin Bagley III, Wendell Carter Jr., Gary Trent Jr. and Trevon Duval are, they are going up against grown men.  And as grown  men, it is not just their physical aspects which come into play, but the mental part of the game where they can take advantage via experience.  In short, improving mentally is important.  Shot selection, consistency, team play and much else fall into the mental category.
Development -- It is already clear to many what Javin DeLaurier brings off the bench with his motor that helps with energy.  But another freshman in Alex O'Connell seems to be developing and earning the staffs trust.  The key is to play within yourself and not try to do too much when earning burn.
Lastly -- Nobody involved was happy with the loss at Boston College.  But basketball can be a cruel sport at times.  Duke faced a team that had players step up for great games and flirting with a loss via having to stage a comeback caught up with the team.  But the future is bright and this group while not immensely deep is talented.  Keep in mind that this is December basketball and while it counts, the goal will always be to  develop fully come March.  This has and will be a fun group to watch, so enjoy the ride for Duke Basketball never stops.
Take advantage of the Holiday Special and learn more about Duke Basketball and Football while supporting Blue Devil Nation as a premium member.  We are doubling memberships through the new year.  IOW, get two years for the price of one or a six month membership will be upgraded to a year.