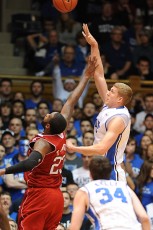 Duke (8-1) tips-off against Washington (4-3) Saturday at 12 noon in a nationally televised game being carried by CBS. Blue Devil Nation enlists the help of Dick Fain from Seattle Sports Radio KJRAM 950 and FM 102.9 to preview the game.  Duke is coming off an 87-64 home win over Colorado State, while Washington lost a 79-77 heart breaker to #11 Marquette on Tuesday.
Dick is host of the "Live @ 5" radio program and has been the voice of the WNBA Seattle Storm for the past three seasons. He also serves as the assistant basketball coach at Mount Rainier High School in Des Moines, a Seattle suburb.
We will start the preview with thoughts from Blue Devil Nation.
Washington is a team, which resembles teams that have given Duke fits in years past. Like St. John's in 2011 and Georgetown in 2010; Washington, or UDub as they're referred to in the great Pacific Northwest, has a roster full of 6'5" to 6'9" athletic players. The difference between Washington and those aforementioned Big East teams is the Huskies are a young team. And that is a huge difference.
Washington is a strong shooting perimeter oriented team with an excellent point guard in Abdul Gaddy (6'3") so Coach Lorenzo Romar likes to play an up tempo game. The Huskies average 81 points per game. Additional perimeter starters, Terrence Ross (6'6") and C.J. Wilcox (6'5") are talented players with the ability to get into the lane via dribble penetration.  The size and talent of Washington's perimeter will be a factor in this game.
The Huskies interior offense is limited with Aziz N'Diaye (7'1") and Darnell Gant (6'8"), but Gant does have the ability to knock down the 3-point shot if left open so Duke must be prepared to follow him out to the perimeter.
Like Duke with Austin Rivers, Washington features a super freshman in Tony Wroten (6'5"). Wroten is the Huskies Sixth Man and when he enters the game Washington has two big point guards on the floor in Gaddy and Wroten, which allows both to switch between handling the ball and playing off the ball.
Needless to say, having multiple primary ball handlers on the floor provides Coach Romar versatility in running his offense.
The possibility of seeing super freshmen Rivers and Wroten matched up on each other is an exciting sub content of this early season non-conference game.
The key individual match-up in this game for Duke will be Terrence Ross who is a tremendously talented player and Washington's leading scorer. Ross is a solid perimeter shooter who has the ability to drive by his defender and finish at the rim. The Blue Devils must know where Ross is at all times and have a man in his face.
For Duke fans who are not familiar with Ross, think Harrison Barnes. Ross is that good. Checking Ross will be a huge defensive assignment for Andre Dawkins and Austin Rivers. It would not surprise me to see Coach Krzyzewski insert Michael Gbinije into the rotation to steal some minutes by having the freshman guard Ross.  The health of Andre Dawkins is a concern re defending Ross as Dawkins left the Colorado State game in the first half with back spasms and did not return.
While Gbinije lacks experience, his size and athleticism could bother Ross.
For Washington, Coach Romar must figure out how to contain Mason Plumlee and Duke's interior strength. N'Diaye has a tendency to be foul prone so look for freshman Shawn Kemp, Jr. (6'9") to see some minutes in the rotation guarding Plumlee as a preventive measure.
Final analysis: Due to Washington's youth, Duke will look to disrupt the Huskies offense by pressuring the perimeter and forcing Washington to start their offense further away from the basket than they are accustomed to which will lead to blown opportunities, turnovers and bad shots.
On offense, this is a game where Duke will focus on running things inside-out. The Blue Devils have a big advantage with their post players so they must look inside first and then kick the ball out for open jump shots. Look for Mason Plumlee and Ryan Kelly to receive lots of touches in the game.
In order for Washington to beat Duke, they must prevent the entry pass, limit interior scoring opportunities and force Duke to become a jump shooting team. Based on Duke's team 3PT FG percentage of 43.2%, it would help the Huskies immensely to catch the Blue Devils on a cold shooting day.
Okay, to learn more about the Washington Huskies let's move on to the Question and Answer session with subject matter expert Dick Fain:
BDN: Can you give Duke fans an overview of Washington's strengths and weaknesses?
Dick Fain: Washington has very clear strengths and equally as clear weaknesses. The strengths are all in the backcourt. The Huskies are as athletic as any team in the conference and arguably boast the best shooters as well.
Abdul Gaddy is an improvement over Isaiah Thomas at point guard because he sees the floor much better and is a pass-first guard who makes very good decisions. His 6-3 size also gives him a decided edge over the 5-8 Thomas.
Lorenzo Romar told me two years ago that CJ Wilcox would have been the Pac 10's best three point shooter had he played instead of redshirted that year. Romar's words have proven prophetic as Wilcox hit a respectable 40% from three last year and is a blazing hot 16/29 55% this season.
Terrence Ross is a lottery pick with tremendous penetration and shooting abilities and will undoubtedly get Duke's best perimeter defender. He is still raw and would benefit from staying in school for his sophomore and junior seasons but the Lottery may be too much for him to pass up after this season.
Scott Suggs is a solid shooter and leader that the Dawgs have missed this year due to a training camp injury but should have him back in some capacity by the Duke game.
The Dawgs weaknesses lie in their bigs. Darnell Gant and Desmond Simmons are skilled, athletic, undersized 4 men but have little to no back to the basket ability and are sketchy rebounders at best. Aziz N'diaye is an interesting 7-1 center that is very good a blocking shots and filling the paint but has very little offensive skill. If he stays four years he should be a 1st rounder as he is improving and some NBA team will take a shot on a 7-1 shotblocker.
BDN: We know Washington is a young team with seven freshmen on the squad, which of these freshmen are ready to contribute right away?
Dick Fain: The only freshman that is ready to compete against top 25 competition is Tony Wroten who has been on recruiters radars since he was a 5th grader. Seattle is a city that has produced the likes of Brandon Roy, Jason Terry, Aaron Brooks, Jamal Crawford, Nate Robinson and many other NBA guards but none had the hype out of high school of Wroten. Before blowing out his knee before his junior year, he was ranked the #1 overall player in America, because of the knee injury he fell into the teens.
BDN: Terrence Ross is an outstanding talent, perhaps Washington's best player, what are his top skill sets and where does he still need improvement?
Dick Fain: Terrence Ross is an interesting story. He was the "other" Terrence that the Huskies got from the Portland area. The Terrence they really wanted (and had) was Terrence Jones who is now at Kentucky. Jones held a televised press conference, put on a Washington hat and then came on my show 10 minutes later to tell me how happy he was that the recruiting process was over and how excited he was to be a Dawg. 10 minutes after that he had a phone conversation with John Calipari and I'm sure you Duke fans are savvy enough to figure out what happened next.
Back to Ross, he has been a very pleasant surprise since he wasn't nearly as highly regarded as the All-American Jones. He is a tremendous scorer both on the perimeter and on the drive. He has shown the ability to hit the big shot as his three pointer from the corner in the waning seconds of regulation sent last year's Pac 10 championship game to overtime allowing for Isaiah Thomas' buzzer beating heroics in a win over Arizona. He has the potential and athleticism to be a defensive stopper but is not there yet. As I mentioned before, the Lottery is waiting for Ross, the only question is whether it will be the 2012 or 2013 Lottery.
BDN: Speaking of freshmen, how special is Tony Wroten?
Dick Fain: I talked about Wroten's pedigree, now I'll talk about his game. Wroten has the best vision of any point guard I've ever seen at Washington. He will throw no look passes through 4 defenders and it will find its mark. The rest of his game is good but not great at this point. He is an adequate shooter and can attack the rim. His biggest area to work on is maturity as at times he will wear his frustration on his sleeve. The sky is the limit for him and the Lottery should be in his future especially if he buys in to LoRo's system and stays at least 3 years.
BDN: Can you expound on Coach Lorenzo Romar and his philosophy for playing the game of basketball?
Dick Fain: Lorenzo Romar is maybe the most underrated coach in the nation. While he is a household name on the west coast, I doubt he is well known in ACC country but he should be. Romar took program that had one trip to the NCAA tournament over the prior 15 years and takes them to the dance nearly every season including three sweet 16's and a #1 seed in 2005. The Huskies have won the Pac 10 tournament title the last two years and won the outright regular season title the year prior. The only thing eluding his resume is a final four appearance and while this isn't the year that will happen, next year could be. Duke fans would love Romar because he is a quality human being who does things the right way just like Coach K. In this era of rampant cheating in college basketball, Duke and Washington both steer clear of such shenanigans.
BDN: I've heard Abdul Gaddy, in interviews on Seattle Sports Radio KJRAM950, discuss how much he grew last year, observing the game from the bench, after his season ending injury. How important is Gaddy's leadership to this year's team?
Dick Fain: I absolutely love Abdul Gaddy's game. He is a local product from Tacoma who torn his knee up in December of last year (his sophomore year). His freshman year was a learning process with quite a few bumps in the road, but by last year he had earned the starting point guard spot and was running the show until the injury forced Isaiah Thomas out of position to the one spot. During his recovery, he has gotten stronger and has become an adept shooter from behind the arc. His lack of great athleticism will likely keep him out of the lottery but I wouldn't be surprised at all if he was a first rounder in 2013.
BDN: Okay, it is time to put you on the spot. What is your prediction for the outcome of the game?
Dick Fain: Prediction time! Duke is one of the few teams that have a better backcourt that UW but the margin isn't great. Where this game is a mismatch is in the interior. The Plumlees and Ryan Kelly should have there way with the Husky bigs and beat Washington on the boards. The Dawgs are one year away from being an elite top 10 team, Duke is there right now. UW makes it a game for 35 minutes but Duke wins 81-72.
Blue Devil Nation offers a big thank you to Dick for agreeing to assist us with the game preview and we encourage all Duke fans to give Dick Fain's "Live @ 5" show a listen on the iheartradio app or on SportsradioKJR.com from 8a-9a ET Monday thru Friday and you can follow him on twitter @dickfain.
I listen to Dick every morning during my morning commute to work and can ensure everyone, while his radio show is Seattle sports centric, he is also on the cutting edge for covering national sports events and breaking news.