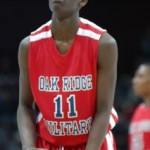 LOS ANGELES – Seventy miles from the Duke University campus is Wesleyan Christian Academy. Theo Pinson helped lead his Trojans to the NCHSAA 3A state championship as they beat Greensboro Day 59-49. The 6'6 swingman was also selected to the NCISAA 3A boys all-state team along with his teammate Harry Giles. Pinson is playing in his last season of AAU before he becomes a senior and ultimately matriculates to the school of his choice.
On Sunday, Pinson's team, CP3, beat a relentless Howard Pulley team 70-66. Howard Pulley, led by top point guard prospect Tyus Jones, was down 15 points with under 5 minutes to play and almost made the miraculous comeback. Pinson scored 16 points on 4 of 11 shooting. He also made key free throws down the stretch including a big offensive rebound to keep possession for his team.
BlueDevilNation was able to catch up with the swingman prospect and get his thoughts on his recruitment.
BlueDevilNation: What's your mindset going into this final AAU season? Any different than before?
Theo Pinson: Na, I mean all of the other years I wanted to win championships. We went to the final four last year so we're trying to finish this time.
BDN: What do you feel like you've improved on most this past season?
TP: Defensive wise I've just been pressuring up a little more cause you have to do it [private]  in college.
BDN: Has that been a big focus for you?
TP: Oh yea, and shooting also.
BDN: Will you be cutting your list anytime soon?
TP: Uh yea, probably after the live period this time, after Boo Williams.
BDN: Is there any school that's recruiting you the hardest right now?
TP: Oh, na.
BDN: Is there any pressure to stay in state?
TP: Not really, I mean, of course a lot of people are going to say go to Duke, go to Carolina, go to State and other schools. But, I mean, I'm just doing the best for me.
BDN: Will distance be a factor for you at all?
TP: No.
BDN: Speaking of Duke, have you been in contact with them regularly?
TP: Yea, I mean, all of them have been, since the seasons been over, everybody's been trying to communicate and telling me they're going to be watching this weekend and stuff like that.
BDN: Who do you keep contact with at Duke?
TP: I talked to K the one time and then it's been Capel, but he's been in surgery right now. And Wojo a couple of times.
BDN: Do you pay attention to who comes out and watches you?
TP: Yea you gotta pay attention to that. You gotta use little stuff like that to separate the schools.
BDN: Do you have any visits coming up?
TP: Umm, not right now.
BDN: How about any in-homes?
TP: No, not yet.
BDN: Who do you feel is the toughest player you've had to guard?
TP: Either Julius (Randle) or Andrew (Wiggins). Those are two good ones. (laughs)
BDN: You have a great high school teammate in Harry Giles. Can you give me a scouting report on him?
TP: Uhhh, shoot, you better learn how to guard, or you're going to have to find somebody that's strong or something. I don't know, I mean he's hard to guard. He's gotta stop himself. That's the only way you're gonna stop him.
BDN: And lastly, are teams recruiting you as a 2 or a 3?
TP: A lot of teams are just recruiting me as a guard. I mean I can play any position from the 1, 2, or 3 or a 4 if I have to.
BDN: Thanks a lot.
TP: No problem.
[/private]