BDN has established a lot of genuine relationships in that for years, we have been covering the Grassroots Basketball scene live and in person.  The great thing about being an independent site is that we can use a myriad of the nation's best recruiting gurus, whereas corporate sites are generally limited to those who work within their ranks.  In the past, we've talked to the best of the best and this time is no different, as we enlist the help of long time talent guru, Van Coleman. 
Coleman is well respected and established in his field and, like our past guest analysts, he  brings years of experience to the table.  And if you're looking for the best quality coverage around, BDN Premium is "the" place to be.  Without further ado, here is Varand Khachdouri's chat with Coleman, as we give you a sample of the kind of work you will find inside BDN Premium, our subscription based service. - Mark Watson
Offering a loud and booming voice, long time scout Van Coleman really hammered home his points to the campers about what it takes to really make it. BDN got a chance to pick the brain of the long time scouting guru. Take a look at what he had to say about some current Duke prospects.
Shabazz Muhammad: He's a tremendous athlete, a guy who can make plays on both ends of the court. He does it off the dribble and uses his hands on defense. Really has worked very hard on improving his jump shot. That's one of the reasons why I think he's right up there for the number one player in the country, because of his consistency of play, and the things that he can do kind of offsets what those big guys and all their athleticism. He really is a guy who can win ball games for people.
Rodney Purvis: He's a tremendous ball handler, a guy that can score off the dribble, improved his jump shot to the point where it now freezes the defense. It makes him a much more effective player. He can play either guard spot. One of the nice things, like Nolan Smith, he's a guy that in college becomes a guy who can take that spot over (point guard position) if he has to. He's a scorer first but he's a guy who can run the show. One of the top 20-25 kids in the country.
Rasheed Sulaimon:The guy can score! He flat out will put points up. Shoots the three, is a tremendous athlete. At the rim he finishes over big guys. Just a guy that's going to put a lot of points on the boards for the Blue Devils.
Mitch McGary: One of the big surprises of the spring. He's really had a tremendous spring. He's improved his skill set away from the basket and face up. He knocks the jumper down now. He has developed the ability to get that 1-2 dribble drive, something he didn't have a year ago. That's really lifted his level to where now he's in consideration for a top 10 spot by a lot of guys. He has become a McDonalds All American I think with that, that's been the big change for him. He's a power guy who can score around the basket, defend, and is smart and understands the game. That makes him a guy that Mike Krzyzewski is going to look at.
Tony Parker: A rebounding machine. If you love Kevin Love, you're going to like Tony Parker. He's a guy that can absolutely dominate on the glass, and finishes around the basket. I'd like to see his face up game get a bit better but that will come with time. Right now, he is a man on the back boards. No better rebounder maybe in high school basketball.
Alex Poythress: Athletic, long, a guy who's improved his jumper which has made him a more much affective player. I think he has lifted his stock this spring with a lot of folks. As that shot gets better, the more exciting of a player he's going to become because when it comes to getting to the rim he's one of those guys who makes highlights.
Julius Randle: Maybe the most skilled big man in the country as far as how he utilizes those tools. He can handle it, he can go to the middle on the break, he can take you off the dribble, he's long, and he's got a great shooting touch from 17ft to the basket. He just does a lot of things. He might be as good an all around big man as there is in the country.
Jabari Parker: Takes off 20 lbs and the comparisons to Paul Pierce really start showing up in a hurry. He's got great skills, he's really improved the jump shot, he makes people pay if you back off of him, he can get to the hoop with either hand. He's a guy that right now I think has risen to challenge Randle for the top spot in that class.
Nerlens Noel: He's long, he blocks shots. Offensively he's very very raw. At this point it's mostly right around the basket. The drop step dunk, those kinds of things. But man can he change the game in the paint with his shot blocking ability, and he can run the floor like he's 6'5, so he gets up and down and creates opportunities. When the offense comes, he's going to be a special player.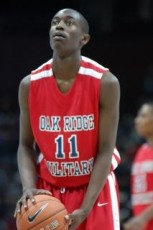 Theo Pinson: Well we're talking about offense, I tell you what, we're talking about a guy that can score a lot of points in a hurry. I think he's really improved his ability to take people off the dribble with confidence and finish in the lane. He's always been a guy that can pop that outside jumper and get people to freeze a little bit. Now he has the dribble drive game to go with it. I think he's a kid that's on the rise and is really going to be a tremendous talent for whoever he ends up with.
Brannen Greene: He can put it up from the perimeter, a real long range guy. He really bombs it. He has enough handle though that if you guard him he can get that 1-2 dribble pull up jump shot. A kid that's on the rise, a lot of people hadn't seen him a lot until this spring, and I think he's a kid that could surprise a lot of people with that jumper. You know what, there's never too good of a shooter.
You can visit Van Coleman here - http://hot100hoops.com/
Discuss this article and the latest on the recruiting trail with BDN Premium Members on our message board.