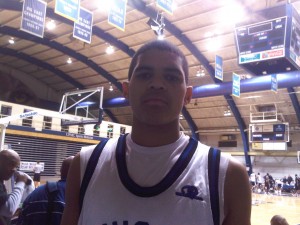 Tobias Harris is a skilled 6'8" junior forward from Dix Hills, NY. His father, Torrel, as a Duquesne Duke, played against the Blue Devils in the Holiday Doubleheader at the Raleigh Coliseum in December of 1977. Mr. Harris, who went on to become an NBA agent, has his sons workout with a friend and former client, George Gervin, in the summers. In the early 1990s, Torrel Harris then started his own apparel licensing business, with agreements for both the NFL and the NBA, and called it Unique Sports Generation. Recently, he began a joint venture with his eldest son, Torrel, Jr., selling Nintendo-licensed apparel, under the name Torrel Torrel. He began his own AAU program, Unique All-Stars, nearly ten years ago to ensure that his children would learn the fundamentals at a young age.
Although not hailing from a basketball hotbed nor playing for a marquee AAU program, his son, Tobias, has garnered interest from around the country, due to the match-up problems that he creates offensively. When guarded by smaller, quicker small forwards, Tobias takes his man down low. When guarded by comparable sized big men, Harris uses his shooting  and basketball acumen to draw his defenders away from the basket and either take them off of the dribble or shoot over them. Recognizing that defense is his chief liability, he's worked with renowned trainer Jerry Powell to lose body fat and gain agility, in order to be able to guard elite small forwards at the next level.  After an opening round game at the Pitt Jam Fest in which he scored 29 points,  Long Island native Tobias Harris spoke with Blue Devil Nation.
Blue Devil Nation: You've traveled extensively around the country. What schools have you visited so far?
Tobias Harris: I've visited a lot, like, Virginia, Maryland, Syracuse, UConn, Georgetown, West Virginia…
BDN: I keep hearing and reading about you going off to visit this school and that.  It's a good way for you to see how you might fit in at a program.
TH: Yeah, yeah. I've visited a lot more because the thing is I'll go to the school's "elite camps," you know.

Blue Devil Nation: Now, you've recently cut down on your list of schools to eleven from roughly forty.
Tobias Harris: Yeah, I just cut it down.
BDN: Can you name the eleven off of the top of your head? [private]
TH: I think I know a couple. It's like…Maryland, Syracuse, UConn…West Virginia, um, Rutgers, Tennessee, Oklahoma, Georgia Tech, Virginia Tech…there's two others…Notre Dame and, oh, Louisville.

Blue Devil Nation: What were some of the things that you found in these schools that helped you to cut it down to eleven?
Tobias Harris: I'm definitely looking for academics and at their style of play.

BDN: What style of play do you feel your best suited to?
TH: A get-up-and-down style…just free flowing…where the forwards have the same opportunities as the guards

Blue Devil Nation: Speaking of that, what position are they mostly recruiting you for?
Tobias Harris: Small forward, you know, a face-up forward that can shoot the ball and do a lot of other things
BDN: How tall are you now?
TH: I'm about 6'8."

BDN: You've grown a little since I spoke with you. The last time you said some schools were actually recruiting you as a two guard.
TH: Yeah, yeah. I've grown too tall to play the two.
Blue Devil Nation: Where are you going to camp this year?
Tobias Harris: Amare Stoudamire, LeBron, and the NBA Top 100. I've got to make sure that I handle my school work with Regents (NY state tests used to gauge knowledge of  a subject matter) and stuff

BDN: I know you're transferring out of Long Island Lutheran, but you won the state title. Can you talk about that run?
TH: It felt great. I thought it was a major achievement.

Blue Devil Nation: Which players do you try to model your game after?
Tobias Harris: I don't really try to model my game after anyone in particular, but I try to take pieces of other people's games. I like to take from Carmelo Anthony and Charlie Villanueva and they do influence me.

Blue Devil Nation: What are you planning on working on over the next eighteen months before you arrive on a college campus? What do you think you need to work on?

Tobias Harris: My defense...my offensive skills…more shooting.
Range?

BDN: Your shot?
TH: Well, my shot is really good right now, but I just think I can get it better.
BDN: In terms of who you will be seeking guidance from, will your father be the primary guy you'll be turning to?
TH: Yeah, my father and my older brother.
BDN: Do you or did you have any favorite, in terms of conference affiliation?
TH: No, not really. I'm looking at ACC and Big East schools and Oklahoma.
Blue Devil Nation: What would you like the audience to know about you away from the court?
Tobias Harris: Just that I'm a good person and a humble guy. I'd like them to know that I'm a really hard worker and that I'll do whatever it takes to succeed.
Blue Devil Nation: Now I know that you've gone to two high schools and you play for your father on the AAU circuit, but, in your experiences, what do you find to be the differences between high school and AAU competition?
Tobias Harris: It's a lot different. In high school, sometimes you're stuck you in one spot and just runs sets.
BDN: Do you ever play center in high school?
TH: No, I almost always play the three.

Blue Devil Nation: I saw you bringing up the ball quite a bit tonight. Are you just trying to work in some ball handling? Are you looking to do that a little bit more?
Tobias Harris: Yeah, I know I'm not going to play point guard in college or anything, but I still want to have a good handle and I think it helps with my ball handling.
Blue Devil Nation: How would you assess your leadership at this point?
Tobias Harris: I like to lead my team and I want to get everyone involved. I don't want nobody to be sulking on the team so I just try to be very unselfish.

Blue Devil Nation: And your rebounding, can you touch on that?
Tobias Harris: Yeah, that's a good benchmark for me. I try to box out and use my size to my advantage. At 6'8," I usually have a size advantage against the guy I'm playing against so. I actually a lot of points on either put backs or getting fouled after offensive rebounds. I try to draw contact.

Blue Devil Nation: You've slimmed down and lost some of that body fat. What do you feel you've improved upon the most over the past year?
Tobias Harris: I think my defense and my ball-handling. I've been working with my trainer, Jerry Powell. My trainer has helped me a lot with getting in shape too.
BDN: Jerry Powell has been working with guys like Syl Landesberg and Lance Stephenson recently.
TH: Yeah, yeah, he's helped me out a lot.
BDN: Now, your dad played at Duquesne and has gotten into coaching at the AAU level. Do you have any interest in getting into coaching once your playing career is over?
TH: No, not at all.

Blue Devil Nation: How about the apparel business? Do you have any interest in following your father and your brother into the family licensing apparel business?
Tobias Harris: Yeah, yeah. I want to own my own business, any kind of business.

BDN: Is that what you'd like to major in, business?
TH: Yeah, that's what I want to major in.
BDN: Thanks a lot , Tobias
TH: Sure thing [/private]