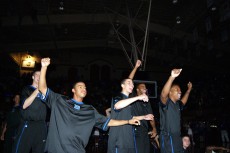 Duke-UNC Alumni Game in the works
I have no details other than it is scheduled to take place on November 17th.  With the NBA lockout, this could be a loaded and fun even and we'll have more details in the near future, so stay tuned.
Who is Bellarmine?
Duke takes on Bellarmine in it's exhibition opener this Saturday at 7:00 in Cameron Indoor Stadium.  For those of you unfamiliar with the school located in Kentucky, they are the defending Division II National Champions.  In fact, they are the pre season favorite to repeat and are ranked number one by Sporting News.  They have two first team Division II All Americans in Jeremy Kendle and Jermey Hobbs and a couple of new players have been added to an already talented cast.  Coach K is going to schedule the best teams possible to prepare his team.
Have you noticed yet?
Duke opens the season with a very talented Belmont team who won 30 games a season ago and they return everybody who counts.  This will be a tough test for the younger Blue Devils in that they are a well disciplined team.  The game is schedule to tip off at 9:05 EST on Friday November 11th.  But have you noticed that Duke has another game on Saturday versus Presbyterian at 4:30?  That's one heck of a quick turnaround!  Both games will be televised by ESPNU and every Duke game this season is televised on some network as always.
Rotation
I had a lot of questions on my Monday Musing article where I said the two Plumlee brothers, Kelly, Curry and Rivers would start.  What I meant to say were these are the five best players on this seasons team.  Andre Dawkins is right there and he may be in the lineup this week.  The key will be seeing which freshman can step up and provide depth for Duke will play a lot of them this season.
Speaking of freshman
Will there ever be a freshman that breaks Chis Duhons' record of 2.85-1 assist-turnover ratio? How about 51 dunks in their first season, a record held by Josh McRoberts?  Heck, how about Mike Gminki's 3.3 per blocks game when he was still 17 years old to start off his first year?  Johnny Dawkins is atop the list averaging 18.1 ppg as a frosh.  Bobby Hurley had 9, 10 assists games in his first year as well.  Now, we'll see where Austin Rivers makes his impact.
Michael or mom ... what's up?
There have been few players as troubled as Michael Beasley.  Now he is suing Curtis Malone, a man that reached out to him, took him off the streets if you will and allowed him to live in his home for five years.  Five years.  So, we are to think that Curtis Malone would allow him to stay in his home and mentor him for five years just to get hooks in place?  Please.  What a farce but it will be a newspapers dream to drag this one all over the place.  There is a long piece in the Washington Post and then there is this From Yahoo Sports.
Tony Parker
The big man from Georgia will be on the Duke campus with his family this weekend.  Duke and Coach K have stayed the course with Tony and it could well pay off.  Parker is a key prospect for the Blue Devils and one they stayed true to turning other big name prospect away to court him.  Maybe, their faith will pay off with an eventual verbal.
Mitch McGary
In case you have been out of the country and missed it, Mitch McGary will choose between Duke, Florida and Michgan next week.