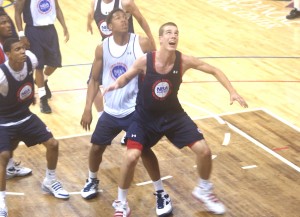 With just two games left in December, the Duke Men's Basketball staff will be hitting the road to check out their main targets in Holiday Tournaments.  Coach K and company will start by viewing [private] Tony Parker tomorrow.  You might want to check out our recent interview with the big man and rest assured we'll follow up with him as the season progresses.
Duke will then take in Michael Gbinije's game where they'll check on their verbals progress to date.  Part of the staff will check out Marshall Plumlee at Glaxo later in the month but the first view of him will come during the City of Palms Tournament in Fort Meyers, Florida and that event is loaded.  Two of the Blue Devils main targets are Shabazz Muhammad and Alex Murphy and both play in the event as does Austin Rivers.
"The Dogg" Nate James will head to Washington, D.C. to see Rasheed Sulaimon and Coach K is likely to go as well in that he wants to see more of the guard in person.
Duke will be looking at some other names as well and we'll share them once we've confirmed the dates.  Duke will likely add some guards to the watch list as well, but they are in no way worried with Rodney  Purvis choosing Louisville.  Like I said before, a lot of names will crop up in due time.   Duke feels as if they are in good shape with Muhammad, Murphy and Sulaimon and they'll work to get closer with Parker. [/private]