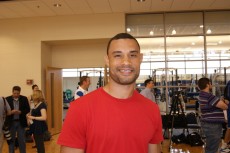 After completing a stellar four year career at Duke, Trajan Langdon, dubbed the Alaskan Assassin while a Blue Devil, played professionally in Russia, where he led CSKA Moscow (pronounced "Ceska")  to two European titles.  Langdon was named first team All-Euroleague twice in a league considered to be one of the two best in the world.
In this interview, Langdon shared what his life looks like in his first year of  retirement.  The former sharpshooter is now rasing his own family, and he updates us on that as well as his feelings about his extended Blue Devil family.
The plan is to catch up again to Trajan soon for a more in-depth interview, but for now I'm sure you will enjoy hearing from one of Duke's most succesful players in the Coach K era.