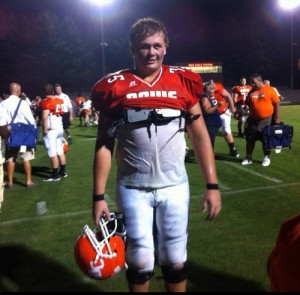 Duke has prioritized recruiting the state of North Carolina under Coach Cutcliffe, and that strategy appears ready to pay major dividends in the class of 2014. The 2014 in-state recruiting class is one of the strongest in years, and the Blue Devils have already offered and hosted many top prospects. Last fall, they hosted junior OL Trip McNeill on an unofficial visit, and the big lineman was back on campus this past weekend for Junior Day. As the Blue Devils transition to a read-option offense, Coach Latina is looking to continue to build strength and athleticism along the offensive line. McNeill, at 6'4" and 290 pounds, has exactly the skills that the Blue Devils are looking for in the class of 2014. Already with seven scholarship offers, the recruitment for the Davie County star is heating up this spring. BDN caught up with Trip after his recent visit to Durham. [private]
Now that you've had some time to reflect on it, how did your junior season finish up?
Our season ended on a bad note to me. We had a hard loss to Mount Tabor. We beat them earlier in the season, but lost in the second round of the state playoffs at home, so that was a real bummer after having a fairly good season and having a good win over them before
That's tough. With that bitter taste in your mouth, I know you're getting ready for your senior year.  What are some of the things you're working on and what are some of your goals for this coming fall?
Maintaining weight, not letting my weight get too high, speed and agility is a big thing, and flexibility.
Where do you stand with scholarship offers, and which schools are recruiting you the hardest?
I've got seven offers right now, UVA, Duke, UNC, NC State, Wake Forest, and ECU and App State.  Right now I'd have to say the three that are recruiting the hardest would have to be State, Duke, and Wake.
Have you had a chance to get out and take any visits since we last spoke, or do you have any planned this spring?
I went to Duke on Saturday.  I went to the Miami game.  I'm going to Wake this weekend.  I think they play Virginia Tech.  I plan on going back to some spring practices.
Can you talk a little bit, since it's fresh in your mind, about your visit to Duke and how that went? Did anything really stand out to you on your visit this past weekend?
I got some one on one time with Coach Latina, which was really nice, the offensive line coach. I had a good talk with him and we hadn't really been able to talk too much so that was really nice.
What were some of the things he talked to you about and how does he see you fitting in with their program?
We didn't talk too much about that.  We talked a lot of about how they do offensive line, how he trains the offensive line and what kind of schemes they run and plays, stuff like that.
Do you have a favorite among the schools that have offered you or a school that has stood out based on your interactions at this point? 
I like them all a lot and getting to know the people at each school is just getting better and better. They're all great people.
Do you have an idea for when you hope to start narrowing things down or naming leaders or anything like that?
Not exactly.
Are you still planning to get your decision done sometime later in the year?
Yes, sometime later this year.
Thanks a lot, Trip, and best of luck!
[/private]
View Trip's highlights here.