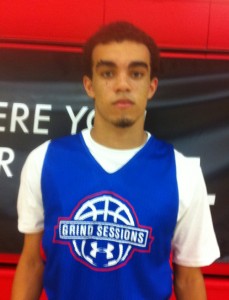 Few positions in sports are able to control the tempo of a game like a point guard can. For some, speed is the key, while others like to slow the game down completely. Players such as Tyus Jones have the ability to change the pace back and forth, constantly keeping the defender on his toes. Jones has a feel for the game that is far beyond his years.
For Jones the attention he receives is nothing new. His local university, Minnesota, has been recruiting him since the eighth grade, and he has built a great relationship with Tubby Smith and his staff.
The Apple Valley product won a Gold medal this summer with the U17 Team USA squad in Lithuania. He had the chance to share the experience with close friends Justise Winslow and Jahlil Okafor.
Jones gave BDN a few minutes to discuss his summer and his recruitment, among other topics.
BlueDevilNation: Take me over your summer and how you think it went.
Tyus Jones: I think the summer's gone very well so far. I enjoyed [private] myself this summer. I had a blast this summer and traveling and everything like that and I think I played well. I think I improved. I don't think I have any choice but to improve. You know, with the level of competition being as high as it is. So, you know, I enjoyed myself.
BDN: Do you feel you there is a difference in your role in AAU and high school?
TJ: You know, my AAU role, I think the games are different. Minnesota high school ball doesn't have a shot clock so there's not as many shots. Some teams will more slow it down and things like that but I think I still have a similar role. I got to score, but at the same time distribute the ball and get my teammates involved. So I think, my AAU team and high school team, I play a similar role.
BDN: You obviously had a great opportunity this summer to travel to the Canary Islands and Lithuania. How do you think that experience changed you?
TJ: It was great, it was great. You know the experience was unbelievable to go to a different country and see what their culture is like and how they do things over there. You know even the game of basketball over there, the fans, and just everything is different. So it was a great learning experience. But, you know, we had fun and played well over there.

BDN: Was there one major difference in the culture that you noticed?
TJ: All of their stuff is more compact. You know, the rooms are real small, restaurants and stores are all real small. You sit real close together. So everything was just compact.
BDN: Compared to here where most things are more open and spread out.
TJ: Yeah, exactly. We were able to walk everywhere there.
BDN: You also had a chance to watch the Team USA Men's team when you got back. Can you go over that experience?
TJ: That was just crazy. To be in the room of the world's best of the best right now. It didn't even feel real. It was a great experience. We were very thankful that they gave us the opportunity to do that, and it was great to see even at that level how focused and intense those guys are.
BDN: What, if anything, did you notice about the players' interaction with each other? Coaches?
TJ: One of the main things you notice is how much respect the players have for Coach K and the assistants. A lot of times you might think NBA players are on top, so they might not want to hear what coaches had to say, but they were tuned in, respectful and listened to anything they had to say. They were still learning the game, which is good to see.
BDN: Can you go over who's recruiting you right now?
TJ: University of Minnesota, Ohio State, Michigan State, Baylor, Kentucky, Duke, North Carolina, Kansas.
BDN: Regarding Duke, obviously Coach K coaches the national team. Is that something that players either talk about to each other or take into heavy consideration?
TJ: I think everything goes into consideration. I think you look at every aspect of it, whether it be big or little. So it's definitely something you look at and it could vary from player to player how big of an aspect that is from a college standpoint. But yeah, you definitely notice it.
BDN: Does it make any difference to you that he wasn't able to be there to recruit in July?
TJ: No, I talked to him a little bit right before they left and I was still in contact with their assistant coaches. Obviously he had a much more important (laughs) job so you can't really hold that against a coach or anything.
BDN: Tell me about the local school, Minnesota, that's been recruiting you for awhile.
TJ: Oh I've got a good relationship with Tubby Smith and his staff. They've been recruiting me for awhile since I was an eighth grader, so we've gotten close since I've known them. They had a good run at the end of the year last year which is good to see.
BDN: Do you have any upcoming visits that are planned?
TJ: As of now I don't have any officially planned out. I'm going to try and do some in the fall, I'm not sure to where.
BDN: Try and make a Midnight Madness event?
TJ: Yeah, I think so. I'm not sure to where though, but yeah I'm going to try and make some.
BDN: Reading a previous interview with you, I read that you said you wanted to become more vocal during the summer. Do you feel like you accomplished that?
TJ: I did, I did. It's just something I think a point guard has to have, along with coaches think a point guard has to have. You have to be able to communicate. Communication on a team is key and the point guard being the leader out there on the floor, it starts with them. I tried to focus on that and I think my vocal leadership improved.
BDN: Thanks a lot for your time.
TJ: No problem, thank you. [/private]