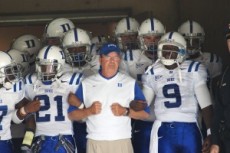 BLACKSBURG, Va.– The Duke football team fell to 23rd-ranked Virginia Tech, 44-7, Saturday afternoon in front of 66,233 sun-splashed fans at Lane Stadium in Blacksburg, Va.
The Hokies improve to 6-2 overall and 4-0 in ACC action while the Blue Devils fall to 1-6 overall and 0-4 in the league.
Virginia Tech quarterback Tyrod Taylor completed 13-of-17 pass attempts for 280 yards and 280 touchdowns to lead the Hokies, who claimed a 7-0 lead just over seven minutes into the first period when Taylor found tight end Andre Smith for a 14-yard scoring toss to cap a five-play, 57-yard drive.  Following Duke's next possession, Virginia Tech's Jayron Hosley returned a Duke punt 61 yards to set up a one-yard touchdown run by Ryan Williams to give the Hokies a 14-0 advantage with 1:30 remaining in the opening quarter.
After Holsey intercepted a pass by Duke quarterback Brandon Connette, the Hokies marched 24 yards in six plays to take a 21-0 lead on a two-yard touchdown plunge by Darren Evans.  The teams went to intermission with the score 27-0 after Chris Hazley booted a pair of field goals in the final 2:37 of the half.
Taylor threw a 43-yard touchdown pass to flanker Dyrell Roberts on Virginia Tech's first possession of the third quarter, extending the home team's lead to 34-0.  Duke responded with a nine-play, 56-yard drive that resulted in a six-yard touchdown run by running back Jay Hollingsworth.  The drive, which was set up by Desmond Scott's 36-yard kickoff return, was keyed by Connette's 19-yard run that gave Duke a first-and-goal from the Hokie six yard line.
On the Hokies' next possession, Taylor found David Wilson down the sideline for a 65-yard touchdown pass to make the score 41-7 with 5:08 left in the third quarter.  Hazley's third field goal of the day – this one from 22 yards away – pushed the margin to 37 points late in the third period.
Virginia Tech scored on eight of its first nine offensive possessions to secure its sixth consecutive victory of the season.
For the Blue Devils, quarterback Sean Renfree hit on 12-of-32 passes for 116 yards while Connette paced the ground attack with 43 yards on eight carries.  Wideout Conner Vernon finished with six receptions for 44 yards.
Duke steps out of conference action next week by travelling to Annapolis, Md., to meet the U.S. Naval Academy.  Kick-off is set for 3:30 p.m. and the game will be televised live by CBS College Sports.